The One That Got Away
January 25, 2012
For the longest time, I always saw you as that one. The one that I let slip right through my fingers, because I felt like I couldn't stop it. I know now that I could stop it, but now it's too late. I miss you. I wish I had you back with me.
We started talking today. I knew you had a new girlfriend, but when you told me, my heart started breaking again. How could you possibly have such a strong effect on me? You were my best friend, and we screwed that up by falling for each other. I don't think it will ever be the same with us anymore, but I wish it could be.
When I saw you today, my heart raced 200 mph. Why can't I just get over you? We stayed together for as long as we could, until my teacher made me leave the room to go to another classroom. You told me you didn't want me to go. And when you said that, I got the feeling that things would be okay again. And then you hugged me. Your long arms wrapped around my tiny waist, and you pulled me close. You held me there, not wanting to let go. Your hands were burning into my back, and I, too, didn't ever want to unwrap my arms from around your neck.
You reluctantly pulled away, and so did I. You promised you would text me later. When you said that, I had to turn my back and walk away. I didn't want to look back. The sight of you parting from me brought back painful memories. I didn't want you seeing the tears that threatened to fall from my eyes.
Within seconds, my phone was buzzing with a new text. "I loved the feeling of being able to put my arms around you," he said. It was the simple things like that that made me wish things were back to normal, when it was an "us" not "me and him". I left my group, and went back to the room he was in, interrupting his presentation. I stood in the door, and waited for him to make the next move. He asked his friend to cover for him, and walked into the hall, shutting the door behind him.
"You don't get to do this to me," I told him, trying to hold back the tears.
"Do what?" he asked, confused.
"Pretend that everything is like it was when we were together!" I practically screamed. "You have a girlfriend, so you can't sit around and act sweet to me. It hurts. Not just me, but your girlfriend if she ever finds out."
He paused for a second, trying to think of what to say. "I don't have a girlfriend," he said.
I just stood there, looking at him. I didn't know what to say. If I should be happy, or be sad for him. "I broke up with her this morning. I don't love her," he said. He stopped, and put his finger under my chin. He lifted my head so my eyes met his, before whispering, "I didn't love her. I love you."
The tears fell down my cheeks, and he wiped them off with his thumb. I hated myself for showing weakness. I hate that he makes me feel like this. I hate how much I love him. "Prove it," I finally said.
"What?"
"I said prove it. Prove to me I'm not just another girl. Prove that you won't break my heart again. Prove that you love me." I pulled my chin from his grasp, and began to turn away. He grabbed my wrist, pulling me back to him. Before I could protest, he crushed his lips against mine, chasing away any thoughts in my head. It felt right. Like this is what was supposed to happen. When he pulled away, he just looked at me. He had let go of me, so I was able to turn and walk away before he could say anything.
I'd lost him once. I don't think I could stand getting hurt again. He'll just have to be the one that got away.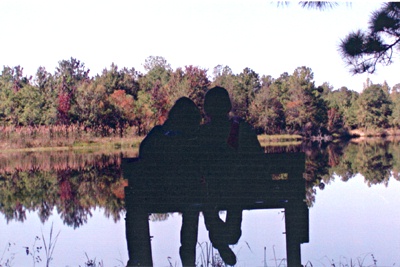 © Heather J., Slidell, LA