Bay Leaf, Wisconsin
MAG
September 4, 2011
If you are looking for a place to bully, move to Wisconsin. Whenever the grocery store is out of the milk you dig, you can blame it on living in the middle of nowhere.

If you are looking for a place with elegant boutiques, historic mansions, national parks, or highbrow universities, don't move to Bay Leaf, Wisconsin. I buy my clothes at Sears thirteen miles away. The deli/convenience store where I work is dubbed "historic" (a relic of the 1920s). We have a park with six benches, two swings – one broken, one functional – a slide, and a smattering of trees and woodchips. And we have Bay Leaf Community College, home of the didn't-feel-like-studyings, the I'd-prefer-sleeping-til-noons, and me.

If you are looking for a place that strangles you like an extra-small turtleneck sweater, move to Bay Leaf, Wisconsin. The rainy days of your childhood will be filled with television static, yellowing Nancy Drew and Hardy Boys novels, green plastic army men, and dolls with matted yarn for hair. You will be content with macaroni necklaces and your boxy little backyard and the knee-deep worldview of your elementary school teachers.

Perhaps one day your parents will drive you and the family friends into the city, and the setting sun reflecting on the skyscrapers will brand your eyes for a while. The city will recede into nothingness as you watch the passenger side mirror from your padded carseat, squeezing a fistful of toy soldiers in your small hand.

The next rainy Sunday, when your parents and little brother are all taking naps and the old house creaks with age – that's when the feeling begins, when you start to feel how trapped you are, feet welded to your home just like the army man's boots to his stand. Some girls grow up trapped in their own skins – a delicate, breakable netting of some color from ivory to espresso – wound tightly around their growing minds and tucking insecurities and uncertainties in tightly, as a diver would press her chin against her chest, anticipating the brutality of the real world.

You will grow up trapped beneath a shell of green plastic – ugly, olive drab poured into a mold somewhere. You will never worry about the brutality of the real world because you are here, a world apart from the city beneath your eyelids. You will settle. You won't feel like studying and you will prefer sleeping until noon. You will become a cynic – a scholar taking photography classes at community college, a driven-career woman operating the cash register, an interior decorator moving the table from IKEA and the chairs from your dead parents, those people who napped away rainy Sundays and settled too, as their parents did before them. If you are looking for a place that will settle around you and plasticize your ambitions, move to Bay Leaf.

This essay isn't supposed to be about my leftover childhood angst or disdain for the small town in which I live. It's supposed to be about photography – a highly personalized response to another photographer's project for an unconventional teacher. I don't know when college became purgatory. I honestly don't. I don't know the day I gave up – graduation? When we stopped writing stories in middle school? When we visited the city when I was little? I'm letting myself ramble, though – I'm letting myself scribble without lifting the pen, without rereading a word of this.

A segue would be effective. I've been raging on about Bay Leaf. Bay leaf is actually a spice, commonly exported from Colombia, Russia, and India – worlds away from Bay Leaf, Wisconsin. Spice also signifies something out of the ordinary, something capable of adding pizzazz, riffraff, shenanigans, whatever you want to call any extraordinary occurrence, as long as you borrow a whimsical name from the spice rack.

Today I did what I've always figured most people who develop photos at convenience stores do: thumb through strangers' photos. The boss man was nowhere to be seen, so I sat spinning on the stool behind the photo counter, stuffing my face with a deli turkey and cheese sandwich, newly printed pictures in the other hand. What I saw was extraordinary, and something I want to call spice over my green-plastic shell.

The pictures were pieces of a person. The person was severed, maybe, but not in a physical way – rather, she was severed by heartbreak, even though her being was cohesive. None of the pictures were dirty, but there was a breathless intimacy in the woman's handwritten words. Anyhow, I looked at the first picture and had to put my sandwich down.

The grain and light leaks confirmed the age of these photos, the age of the camera lens itself. The brittle negatives lay on the counter, and I struggled to recall the face of the woman who handed me the old roll of film. The subject of these photos must be a grandmother, a weathered gravestone somewhere, a life capped off long ago. I studied her history.

A shot of her shoulder, her skin a Mediterranean olive. She held a plane ticket slightly out of focus, on which she had written in green ink: The day we picked wildflowers outside of Edinburgh, and you carefully pulled a thorny vine off of this shoulder.

Bare feet, chipping green nail polish. Another overturned airline slip: The summer I walked to your house every day barefoot, and how rough these soles became.

A somber navy bow tie, a sharp shadow from her chin. The ticket held askew: Your tie from Maggie's funeral, and my throat still choked up, sometimes.

A crescent scar on the shinbone and a once-crumpled up ticket: The scar commemorating what dumb people we grew into.

A pointed nose and an airline ticket held over her mouth: This is where you kissed me, once, the day the storm came from nowhere.

Frizzy, dark hair falling over the forehead, where a trio of freckles formed an equilateral triangle. The ticket covered her eyes: You cut this hair once and it was disastrous and I almost killed you with the scissors but I couldn't and you know why I couldn't, you tell me every day why I can't.

You get the idea. I read the photodiary, witnessed her love letters through the haze of an outsider. It was amusing, bemusing maybe, but what transformed the voyeuristic observation of someone's love into a little nebula of art and inspiration (and even a little sympathy – there's a very romantic person hiding beneath my green plastic skin) was the final photograph in the set.

Dark brown eyes, unextraordinary, with one last plane ticket, this one right side up and completely in focus: These eyes gather the last I will ever see of you, before I have to move on. The ticket put her on a flight from London to Madison, Wisconsin.

This art project did not find closure or speak a universal truth. But to be honest, the work of a British teenager decades ago – her final good-bye and documentation of the sea of meaning her sweetheart gave her – made me feel adjectives I haven't seen since I gave up writing in middle school. All of this was trapped in a film canister for so many years?

I possibly had a few transcendental moments while finishing my sandwich. The things that made me alive, the snapping circuits in my brain and dizzying nuances of feelings behind my face, weren't they a lot more valuable than the green plastic skin in which I lived, the settled-down body trapped in Bay Leaf, Wisconsin? I didn't need a stack of heartbroken self-portraits and plane tickets. Her parents dragged her around the world, and yet she still managed to fall in love and become miserable. My parents taught me how to settle, and I have done nothing since the city branded my eyelids when I was seven years old. I became too complacent for misery or love or anything of the sort.

The photographer behind my essay has inspired me to transfer my credits to a four-year college in Madison. I will bring my camera along. I will learn the color of my skin under this shell and how to walk once uprooted from Bay Leaf, Wisconsin.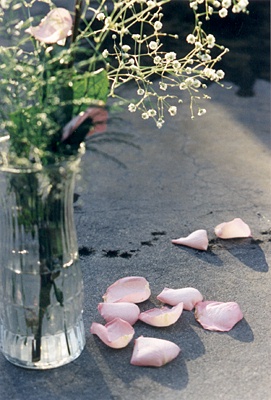 © Mary Amor, Fullerton, CA