Read With Me
July 31, 2011
I want to read with you.
I want to spend the night with you. I want to sit on your bed across from you. I don't want to kiss all night, or anything more. I just want to sit with you and read. I want to read deep, thought provoking, controversial books and dive into them with you. I want to live in our books with you. I want to discuss our books with you. I want to debate until we agree to disagree. And then we would read some more. All night long.
Our books would become our lives for the night, and then next day we would live in the real world. It would be our little secret world, our secret getaway. Nobody would need to know what we did, or where we went. We would read, and we would discuss, and we would grow closer. We wouldn't realize it, but the themes of our books would morph into the current theme of our relationship. The books would take over our lives, and we would just have to let it. Because we would never even fathom the idea of stopping our reading sessions. It would be the time where we would be the closest, the most connected. We would feel so in tune with each other. We would get addicted to our reading.
I want to read with you.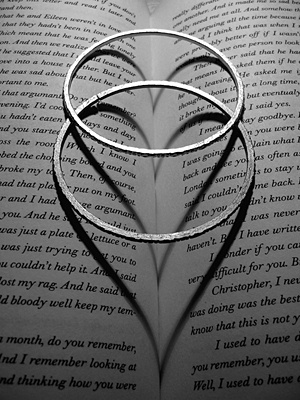 © Julia K., Old Tappan, NJ