A Night Left To Dream.
July 21, 2011
I gathered my thoughts and prepare to sleep again there at night. Clouds covered the moonlight, as time goes by so slow. I pulled the covers over my feet and placed my head on the pillow, soft and comfortable I was. Thoughts of yesterdays filled my head and I dwelled in the fact that I was happy. Happiness took over my body, my soul as I slept, soundly without wake.
Time passed and I found myself dreaming such a luscious, magnificent dream. I got up and looked down, to see I was draped in fabrics so gold, so sparklingly beautiful. My shoes shone in the remaining ray of sunlight as the sun began to set and purples, yellows, oranges, and pinks painted the sky. My hair, so black fell effortlessly on my back, pulled up by a golden clip. I felt like I could do anything, like life wasn't hard anymore. Here I was who I wanted to be, and there will be no hardships to ever face.
Cool air touched my skin, for once in my life, I felt utterly amazing. Night wouldn't come if I didn't want it too. Here, in my dream, I could do anything. I wanted nothing more to enjoy the sunset over the bay, on the balcony looking down. I turned around, my hair blowing in the wind, as I saw him. He stood there, watching me with his dark eyes and black hair. I walked towards him, but he disappeared.
I continued in the direction of where he came from. I looked before me to see the tall oak trees and the greenest grass. A path of stairs appeared there before me. I stepped upon each one carefully as I heard the satisfying click of my shoes upon the golden steps.
The curiosity was killing me, I pulled up my dress and ran up the stairs, and there he was, waiting for me. He walked away, and as if automatically, I followed. He led me out to the most magnificent garden. I was taken back in awe. He turned around and approached me.

I almost panicked to his approach. I put my hands behind my back and awaited his words.

"The best pair, light and dark. The nights are long without moonlight. Here, you've met me, and only here you will. An escape from reality, this is for you, but it has been my reality, to watch over you while you grew."

The words did not make me tremble or take back in fear. I knew when I awoke, all of this will be gone, but this place is my haven, never lost, never wrong.
The sun rose and my dream ended. The feeling of happiness I can carry safely wherever I go, because I know once night comes around, more dreams will be sought out, and found.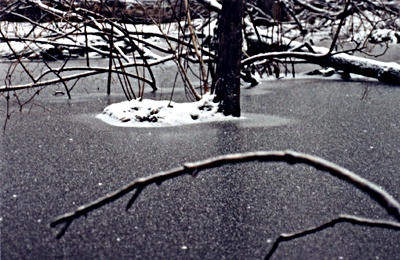 © Anton J., Philadelphia, PA