A Starbucks Affair
April 21, 2011
Every day after working long hours at the office Andrew Fulton, a man of 30 years, would stop in the nearest Starbucks. He would order a Café Americano, sit in a booth adjacent to the counter and read the newspaper. Occasionally he would stretch his head over the paper, and try to catch a glimpse of his soul mate. Her name was Emma as far as he could tell; she hadn't changed name tags since he had started becoming a Starbucks regular, and that was nearly three months ago. For three months she continued to take his breath away, and he hadn't even had a real conversation with her.
Emma was not only striking in looks, but also in character. Time and time again, Andrew would eavesdrop on her conversations with fellow staff members. She spoke intelligently about politics, books, philosophy, and her interests. She was unbelievably kind natured and had the most sincere and beautiful smile. Andrew felt pure satisfaction just being in the presence of someone so remarkably beautiful and genuine. However, being in her presence was not enough anymore.
What could he do? Andrew Fulton was in love. He was in that extravagant, life changing kind of love; the kind that you're not supposed to walk away from. In a world where timing is everything, the cruel fates had decided that she was the one meant to be with him. He couldn't continue watching her from afar, but even starting conversation with her brought him to a difficult crossroad.
Today he sat there contemplating his options, and made up his mind to confront her. He would lay his cards on the table and do the unthinkable. He decided he wouldn't be able to continue his life without her in it. There would be awful ramifications for what he was going to do, but he understood that he was only given one life, and he figured he should spend it with the one he truly loved.
He folded up his newspaper and gave himself reassurances that everything would be okay, that he was on his way to his destiny. He would tell her that she was beautiful; he would ask her on a date, and he would figure everything else out later. He approached the counter, head held high, a man on a mission. Emma was standing there, a smile on her face as always.
"Let me guess, Café Americano?"
"I have to tell you something," Andrew stammered, but as he was going to profess his love, a terrifying fear came over him making him unable, "My name is Andrew."
My name is Andrew? In the moment of his hesitation, it had just popped out of his mouth. His face flushed in humiliation.
She giggled, "My name is Emma."
He tried to say something, anything, but nothing was coming out. He stood there for a few seconds feeling like an undignified moron.
"Look, Andrew, you come here every day, order the same drink, and don't even finish half of it. What is your real motive for coming here so often?"
"You," he said in a little more than a whisper. He had expected things to go more smoothly but instead he was coming off as a mad man. Emma would, no doubt, be absolutely appalled with his behavior and ask him to leave immediately.
"Would you like to have dinner with me sometime Andrew?" her voice was a sweet melody to his ears. There was no way a woman could find his odd and inappropriate tactic charming unless it was fate. He knew then that he had actually found his true love.
This was a defining moment for Andrew, and before he could even collect his thoughts he said, "I'm sorry Emma, I can't," and he turned around and left.


He would never have her. He would never get to hold her in the night, or kiss the lips that framed that stunning smile. He was to live with the fact that there was one person in the world he was meant to be with, and he could have nothing to do with her. He drove home that night with a feeling of dread, knowing that he would never get to see her again.


He opened the door and the smell of pot roast embraced his senses taking away the focus that was once on his broken heart, and placing it on his hungry stomach. He followed the smell into the kitchen and saw her overly familiar face. She was at the counter cutting potatoes smiling. The smile didn't send a bolt of energy through his being like Emma's had, but that smile was just for him, and he knew it would only ever be for him.
"You're home early. How was work?" she asked.
"The same as every day," he mumbled, and he went around the counter to kiss her on the cheek, "here, I can cut the potatoes. Why don't you sit down?"
"How was your day?" Andrew asked.
"I went to the ultrasound "Thanks, my feet are killing me," she sighed and walked over to the kitchen table then pulled out a chair. She rubbed her round belly when she sat and wiped a bead of sweat from her forehead.
today. I put the picture on the fridge," she glowed.
Andrew walked to the refrigerator swiftly and held the picture of his child tenderly. It was wallet size and showed a beautiful silhouette of the person that was really going to define his life. He knew he would never love his wife the way he loved Emma, not the way his wife deserved to be loved, but despite all this he was realized that he would give her and his child the best life possible no matter what. He would take care of his responsibilities the way a real man should and he would love and care for them the best he could. Nothing else mattered, not Emma, not all the embarrassment, not even his broken heart. All that mattered was his future family. He must have known that all along.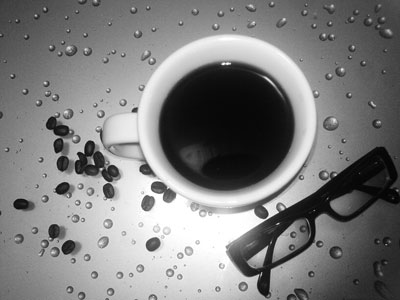 © Hannah U., Staten Island, NY