Confession
April 5, 2011
She's not here again today. Now who do I sit next to? Jordan? Emily? Caitlyn? Jamie is the only one I can sit next to every morning. Now I'm companion-less on this bus. Gr.

I know Melvin won't let me sit next to him. We're friends, but act like nuisances to each other. I guess I need to ask someone else. People are waiting for me to sit down. Waiting for me to stop wasting their time. I wish they knew the definition of patience.

Impulsively, I take a seat in the third front seat. People walk down the aisle, seating themselves with their friends. They're lucky that they have lots of people to depend on. I'm somewhat a loner. I'm friendly but in this school you have to be cool to have friends. Popularity is everything.

Suddenly I realize who I'm sitting next to . He's got black rim glasses and a dark jacket on. The right side of his face is concealed from me, but I can see the left. His eyes lock with mine as I look at him. It's Sion.

Sion and I have been friends for two years. He's the one who introduced me to Melvin. No one really likes to talk to him, mostly because he's a bit weird. Sion always has a strange way of saying things ------ at least to me anyway. Even so, we've remained friends and know a little about each other. However, one day Melvin told me that Sion liked me. I've kept my distance even if I didn't believe it. Yet, I notice that he looks at me in the morning. Maybe he stares at me because he needs company. I mean, it's not like anybody would like me right?

Sion moves a bit closer o the window. I guess he's not used to sitting with someone. He starts to peer out the window into the bright sun. I tend to look out sometimes when I feel alone. I guess he feels the same.

The silence is becoming unbearable. It's awkward just sitting around doing nothing. I take a deep breath and say, "Hi . . . "

Sion glances at me. He looks back down at his black shoes cowardly and replies, "Hi . . . "

"Um . . . not to be weird but why do you keep your hood on all the time?" I ask. "You always wear it."

Sion's quiet for a second. "I don't know . . . "

"Are you trying to look cool?" I question him humorously.

"N-no," he stutters. "I . . . I . . . um . . . okay, maybe."

I laugh. "Oh wow. Okay. Here's another question. Why do you frown and not smile in the morning?"

"Erm . . . "

I pick my arm up and use my fingers to push his lips into a smile. "Smile dude!" I exclaim. "The happier you are the longer you live!"

Sion smiles a bit as he says, "I don't believe you."

His hand pulls my fingers off and for a moment if felt like we froze. My mind's going wild. A guy is actually holding my hand! I mean it's not a big deal but . . . for real? We're transfixed for what feels like eternity. My heart's beating loudly. Why don't it stop? It's not like I'm in love, am I?

Our hands drop once we notice how uncomfortable we both are. I nervously look around trying to find a way to change the subject. Silence replaces our conversation; I really just don't know what to say. The bus nears the school and students are grabbing their book bags. I follow their movements, putting my backpack over my right shoulder. As I do, my head turns to Sion and he's looking back at me. What to say? Should I say nothing?

Then my mouth moves without my discretion. "Today's Valentine's Day, y'know. You should say Happy Valentine's Day to that special girl."

"Yeah . . . I'll try . . . "

"Try? You will. She'll be happy. No worries."

"Maybe . . ."

I walk on the bus again in the afternoon. I'm always early when it comes to packing my things. I don't like being late. It just feels right for me.

Then I see him.

He stares at me as I approach him. Sion's really early today. I wonder why. Soon I'm face to face with him. He's not letting me through to the back for some reason. I start to see how hesitant he looks in his eyes. I feel like I can see right through them, and I have a feeling there's something bothering him . . .

Then his arms wrap around me. "Happy Valentine's Day, Marie. You may not feel the way I do, bu8t I really like you.." I'm holding my breath. he confessed to me. He really does like me. Melvin's right. Sion's crushing on me. Now what do I do? Ever so slowly, my arm moves away from my side and lays on his back.

I guess love is inevitable.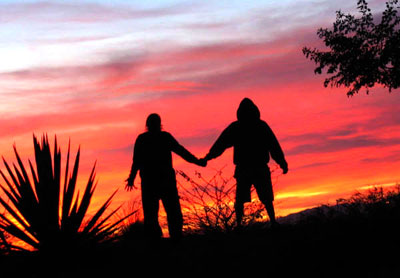 © Rosanna S., Phoenix, AZ