Pieces
January 26, 2011
The familiar sound of the bed creaking as our bodies rocked to a rhythm no one could hear. Drawing pictures on your back with my fingertips. Holding my breath under water, just to see if you would pull me up. And every time you did. I'm drowning, I'm drowning, why aren't you saving me? The dim flicker of the television and the warmth of your lips on my neck. Falling asleep to the sound of your voice and sweetness of your scent. Writing emotions I could not express on bright pink notepads and sticking them in your locker. Drawing sunsets on your chalkboard wall. Watching you read only half a book, because you do not worry about endings like I do. The silence of your thoughts and the firmness of your hands as you paint the world I cannot see. Cold cloths on your forehead to ease the voices inside your mind; but they will not cease, they will not cease. Endless hours over the phone. What did we speak of? I wish I had listened. I wish I had held on to every word, clung to every breath. Carving our names into a fallen over tree, as if to mark our place in the world. To confirm that I was yours, that you were mine. Punching of the walls, I tried to block out the sound; tried to take myself to a better place. But I could not remove myself from a world where you did not exist. So I picked myself up out of my misery and I entered yours. There was so much blood. I bandaged your knuckles and kissed each one with care. I told you to wipe your eyes; that no one could know. And I watched as the gashes healed and as you healed. And everything turned into scars.
The smell of the sweet packaged food that I never got. Buzzing round and round in the microwave. You told me to wait for it to cool but I burned my mouth instead. And it was delicious.
Deciding we should make a place of our own. Taking the axe from your fathers' tool shed and putting on your baggy clothes so mine wouldn't get wet from the melting snow. Watching sweat run down your neck as you took endless swings at the tree. You took your jacket off because you could see I was shaking, but I begged you to make love to me. So you did. And that kept me warm. And by the time it got dark, we had only cut down half of a tree.
Searching through aisles and aisles of mirrors and old furniture and paintings. I pick a little canvas with a brown background and a leaf. Simple, like me.I bring it to you for your judgment, but you already have something picked out.
That night, I watch as you stencil the Eiffel Tower into my faded yellow wall.
I turn on my side every night and wish myself to that place on my wall, but it wont take me there.
We are two artists; you with your paintings, and I with my writing. We are perfectionists. You ruin canvas after canvas until you are satisfied. I never finish a novel, I just write new ones. Half ones that you can read. Funny how that works out. Funny how we both put how we perceive the world on paper, yet it still turns out completely different.
After awhile it's not you and I, its us, and for once I don't mind being a part of someone else life. I am you, and you are me, and finally something in my life is right, is pure.
You sing loud and obnoxiously and I scream at you to turn it down, but the next day I find myself humming the same tune.
If you catch me in the right mood, we dance around the kitchen like two teens in the latest romance feature, but I end up stepping on your toes and you laugh until we get yelled at for not doing the dishes. And I find myself wishing it is moments like these that I wish I could stay.
In the summer I eat all of your servings of your moms awful cabbage soup, while we nudge knees under the table and bite our cheeks. Afterward, you take me to the corner store and buy me my favourite chocolate bar, just for being a champ. The Cabbage Queen. You kiss my forehead right at the check out and I smile so big that I can feel people stare.
Every time you spoke of your father you had this sense of pride and respect about him. But I never once thought he deserved it. And I held my tongue every time, and would sit with you on those nights that he was supposed to be there. We would sit and talk about anything, other than his big mistakes. On nights like those, his big mistakes suffocated the air in the room.
Even without you I am wired to your every movement, your every breath. I want to stop myself, but it's quick as a reflex. You are part of me.
Whirlpools and wrinkly hands, splashing around in your pool as you sit back and enjoy the sun. I have no interest in the sun; in a tan. My interests are in you, you, you. And everyone thinks I am lonely, but they know nothing about you, about us.
I yell at you because I am frustrated and I am tired. I have nights where I do not sleep at all, but this is not your fault. You are not involved in the things that haunt me. But I yell anyways and you yell back and I feel us slip away, but only for a moment before you close the gap and embrace me. When this happens, I forget my sleepless nights, my high expectations, my nightmares. I forget the world.
The pond is frozen and we skate. You hold my hand through my thick mittens and let me show you my dull routines. We skate until the sun goes down.
You love my father because he is everything you wish your father would be. I love your mother because she reads and reads and introduces me to authors I never dreamed of diving into. Anne Spollen, Jane Austen, Jodi Picoult...One afternoon after our books are all finished we talk about weddings. I imagine walking down the aisle and meeting you, and she can see it too. She lets me try on her wedding gown and touches my face and calls me beautiful.
On mornings where your fever runs high I bring you chicken noodle soup in a big silver thermos. You rub my feet and drink your soup and we watch corny cartoons all afternoon.
Spring is the season for new windows. You bring your workboots and hammer and install windows all week. Its painful having you in the same house and not being able to hold you. Its even more painful now, knowing you don't want me to hold you.
We attend dances and you don't know how to tie a tie but we look awfully wonderful standing next to one another.
Walking down streets, looking at houses, picking colours and balconies and shutters we admire. Seeing kids draw pictures in the sky and rollerblade down the road; you squeeze my hand tight, but you don't have to say a word because we are thinking the same thing.
In the final weeks, we begin to think differently. You do not want to leave your family. I cannot imagine staying. Other girls take interest in you and I hate them for it. You are mine. You are mine! But you are not anymore. Its as painful as being split in half, because that's what is happening. Half my heart, half my soul, you are taking it. These pieces of me are being swept under the rug. Like forgotten pieces of a puzzle. Except I cannot forget them. I try to wedge them into places where they do not belong. Place them into my schoolwork, into other boys, into moving on with my life. But these pieces of me are nothing without you.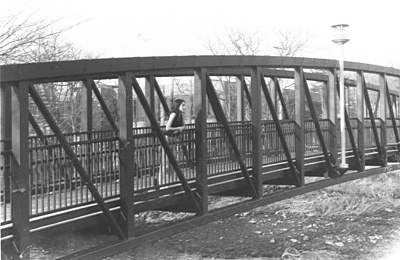 © Kim L., Milford, CT