The Girl That I Am
January 29, 2011
Run my hand along every bridge I pass. Feel the weight of my fingertips, the uncertainty in my mind. I want to jump- for what I do not know. The thrill? Feel the wind thrashing through my hair, knowing I finally took a chance. For the escape? From you. From the world. From myself. I am this girl, with these thoughts, though cynical they may be. It is my fingers that grip the bridge, the same fingers that write endless letters to you; never to be sent. It is my fingers that are always so cold. I am soulless? Am I heartless? I am nothing without you? Just cold fingertips.
The girl I am searches for love, for life, for meaning. Surrounding myself with books, with words. But it is the words never said that break me.
Surrounding myself with faces, with fabrics and colours and beauty. Everything is beautiful. Even a dark looming sky; a crinkled leaf. If captured through the right eye, in the right moment, it is marvellous. I will walk home with my pen, with my paper, with my captured photo in my mind, thinking about how I would like to use words like marvellous more often. I am this girl, with these thoughts, though odd they may seem.
It is my eyes that look to find good in everyone. I am searching, I am searching, but I cannot find it in you. You aura is black, like the coffee I never finish. You are confused about yourself, about your soul, about your mind. Pieces of you are lost in others, lost in her, lost in me. But how can this be? How can I love, can I long, for a person that does not exist? It was my eyes that were fooled. My mouth that mistook your sweet taste for love. It is my mouth that talks too much, that doesn't talk enough, saying things that shouldn't be said. It is my mouth that smiles, that laughs, and you love it, you hate it, that I am happy without you. My aura is orange and red and yellow and you are just black. But it is only because I can paint a better picture. And in the back of my mind I think faux, like French, like false, like fake. Because that's what you are and that's what I am. And then I think of cliché, like us, like a movie I saw last week, like kisses in the rain. I am the girl who enjoys kissing in the rain and sappy movies and chocolate hearts. I like words like cliché and faux because they remind me of French, which reminds me of Paris. And even though I have never been, I know it must be filled with all of the lovely things in life, like people and poetry and romance and coffee. I am the girl who sings loudly in the shower and presses my face to the sky to catch snowflakes on my tongue. I skip the cracks in the sidewalk and pick up rocks if they dazzle in the sun; put them in my pocket for another day. Turning my head as I pass by your house, to catch a glimpse into your window. Wondering if you think about me as often as I think of you. Coming to the conclusion that it is better to have nothing at all, so then the world can take nothing from you. I am the girl who gets off the bus five stops before my house, so I can watch the clouds, watch the lake, watch life pass by as I stand still. I rather like this feeling of standing still. Letting life move on while I stay in my world of curling irons and baggy t-shirts and dog-eared novels. I will run to the bridge with my fists clenched and my heart racing and throw the promise ring you gave me into the river. It will sail through the air, casting a thousand diamonds in the sky. I'm breaking my promises since you broke all of yours.
I am up, I am down I'm a Ferris Wheel; a roller coaster. I put my hands up and close my eyes and I'm free falling. I'm swimming in lemonade and the song that reminds me of you is on repeat. If I could repeat my life, I wouldn't. It's as simple as that. It's as simple as we used to be and as complicated as we are now. It's the email you sent me in June titled "missing you" and I cant bring myself to delete it, no matter how hard I try to convince myself that you aren't.
This girl that I am starts fires in the middle of the forest where we made love for the first time. Watching the flames devour the trees. At first it was out of hatred. I wanted to destroy everything you were to me. But now, now I don't know what it is. Now I can't stop. Pour of the gasoline, flick of the lighter, and suddenly my whole world is up in flames. And I feel alive.
There are days when I make my best friend smile, and she holds my hand tight and I feel infinite. And there are days when I go into my closet, close the door, and scream until my thoughts are silent. There are days when I miss you so badly, its like the wind is knocked from my lungs and I cant breathe. I can't do it by myself. There are days when I realise you're a liar and a jerk and I hate you for it. Look at what you've done.
You see this girl that I am. You know her scars and her curves and the softness of her lips. You know her every secret and her favourite movie and the song she sings on repeat. You know one day she will jump from that bridge and the scariest thing she's realised, is that you won't stop her.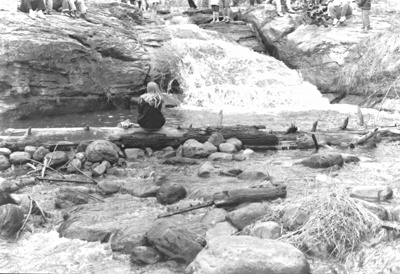 © Andrea E., Phoenix, AZ