Love Happens
January 8, 2011
When you look at a couple, you think, "They must have been great friends before they got together." Have you ever looked at a happy couple and just wondered if they even knew each other before they got together? I'm going to share my special story with you.

My name is Katie, and I'm 15 years old. My boyfriends name is Cody. I love Cody more than life itself. No, we weren't great friends before we got together. I barely knew him. My best friend, Maria, was friends with him. We were hanging out one night, and she was talking to her boyfriend over the phone. I was sitting next to her, trying to act happy that she had found love. Inside, I was lonely. I had no boyfriend.

When she hung up her phone, we were silent. "Love is great, isn't it?" I just sat there, silent. I didn't know what to say to that. I had never been in love before. "We need to get you a boyfriend," she said, shocking me.

She started going through everyone in her contact list, and I sat there, barely listening as she rambled off names. "I got it! I have a really good friend. His name is Cody. You guys would be for perfect for each other! He's so sweet. You have to meet him."

She dialed his number. I hoped he wouldn't answer. What would I say? One ring. Don't pick up. The second ring. Why isn't he picking up? The third ring. I have a bad feeling about this.

"Hello?" he answered.

"Cody! Hey, it's Maria. I have someone here I think you should meet. You up to it?" My heart was beating twice as fast as usual. Why was she doing this to me?

"Okay. Who is it?"

"Her name is Katie. I'm going to put it on speaker so you can talk to her." She put the phone on speaker, and handed it to me.

Our conversation was normal. We talked like we were old friends, rather than two kids that had just met. After about an hour, Maria started to get impatient. She took the phone from my hand, and took it off the speaker. "Okay, so you obviously don't get my point of you talking to her. I was hoping you would ask her out." He said something on the other end, and she rolled her eyes. "Yeah, you barely know each other. So? You need a girlfriend, and she needs a boyfriend. Besides, you guys would make a really cute couple."

He said something long on the other end, and she sat there silently. Which was shocking. I tried to hear what he was saying, but it was impossible. "Okay. Well, I'm going to put the phone on speaker."

She handed the phone back to me, and it was on speaker again. "Katie, will you be my girlfriend?" For some odd reason, my heart felt like it was going to fly out of my chest. I said yes, of course. It felt wrong though. I kind of wanted to get to know him better. I guess there's plenty of time for that, though. Right?

So we did the normal stuff. We walked around school holding hands. We went on dates. We hung out with our friends. And, very slowly, I fell in love with him.

A few months after that night at Maria's house, he brought me to the beach. We were sitting in the sand, listening to the waves hit the shore. It was so peaceful. I couldn't think of a place I would rather be then right here in his arms. "If you could have one thing, anything imaginable, what would it be?"

"You," he whispered. "I love you." At that moment, I couldn't remember how to breathe.

"You already have me," I said. I looked up at him, and he smiled.

"Then there's nothing else I could possibly want." He leaned down, and kissed me. It was so sweet. It was every girls dream. Sitting on the beach at night, listening to the crashing waves in front of you, and then the boy of your dreams kisses you.

Every now and then, we would learn something new about each other. We were alike with some things, but with others, we were complete opposites. But the biggest thing we had in common was how much we loved each other.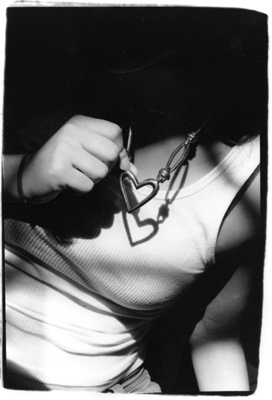 © Julia R., Bethesda, MD