The Beach, the Water, and my Love
November 27, 2010
There we were sitting, on the beach shore gazing at the setting sun over the water. My flip flops were next to me, my t-shirt was laid over my shoes, and I had my bikini top on and a pair of shorts. You were sitting there with a shirt pulled over your wet chest and your swim trunks on with your sneakers next to you.
I felt the sand squished between my toes and I ran my hands along the sand. Your arm was around me, your hand rubbing my upper shoulder. I leaned my head on your shoulder and smelled the scent of saltwater. I stared back out at the ocean where the sky was just starting to turn pink. I took my head off your shoulder and laid down. My head felt the soft sand and I saw you lay next to me. You told me a cheesy joke, and I laughed. That was just like you, to tell a cheesy joke, that was just like me, to laugh at it. You stood up and I grabbed your arm, you pulled me up and we walked hand in hand towards the water.
My shoes dangled in my hand as we waded through the water. We walked up and down the shore line. I smiled at you and you smiled back. You suddenly let go and started to run. I yelled after you, laughed, and started running. You ran goofy and I almost fell over laughing. When I reached you, you picked me up in your arms and spun me around. I clung to your arms as I laughed and smiled. You set me down and I jokingly pushed you into the water. You grabbed my arm and pulled me down too. The water was cold but I didn't care, I felt warm just being next to you. The water rushed over my legs as a wave came. We saw a giant wave coming our way, and you with your love for me; you pulled me up before you, risking your own life by being carried away by the wave. You got engulfed by the water and I screamed and started reaching for you hand. I feared for you as I saw the wave carry you a few inches off. I ran after you and grabbed your arm and pulled you away. You coughed a few times and I knelt by your side, and ran my hands over you.
"Are you okay?" I whispered into your ear. You coughed a few more times, but nodded when you finished. You sat up and looked at me and a smile spread across my face, I was so glad you were okay.
Then in the midst of the sea and the romance that it was filled with, you leaned in and I leaned in. Our lips met for the very first time and our hands intertwined.
There was no doubt in my mind, I loved you.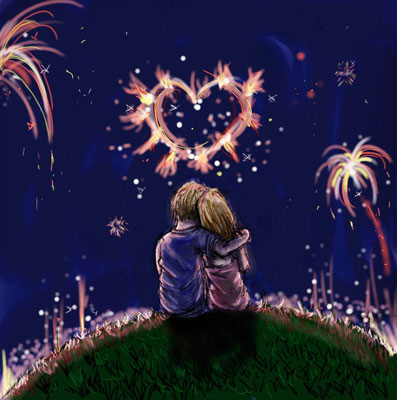 © Carissa G., Aberdeen, WA