The Poems - part three
November 25, 2010
BOB


I did what Mr. Priston asked. I wrote more poems, usually shorter and more to the point. I started to write about my mother, a lot and I started to spend more and more time with him after school. I was feeling safe and it was an escape from home. I remember when I handed him my first poem, which was about my mother's worst boyfriend. It was the first poem I wrote about her and her lifestyle.

Bob
The smell of poison on his breath,
The way his eyes turned me to meat,
The sound of his raspy voice,
The way he played her like a drum.
He's the reason I hate home.
She's the reason I hate home.
Once he finally leaves,
There will be another Bob,
Because she has "needs".


I'm bubbling up with nervous regret as he reads it. I wonder what he is thinking, if he'll talk to the counselor, or if he'll try and console me. I'm worried about his reaction. He finally looks up from the paper, still sitting on that desk. His face is filled with concern. This is the first time that I have ever seen him sad. I know he can see that I'm worried. He steps down from where he is sitting, puts my poem on my desk and squats down to be at eye-level with me.

"It's powerful; truly saddening", he sighs. "I'm sorry I have to ask this, but Rachel, have you ever… been abused in anyway?"
I pause, and I contemplate how I want to phrase my answer. "There have been some close encounters, and uncomfortable men, but I've never been touched. I try not to be around enough for that to occur."
With one hand, he lightly lays it on my shoulder and takes my hand with the other. "I know you don't want me to say anything; it's written all over your face. Anything said here, in your poems, are just between you and me. But if there is a time that you don't feel safe, I want you to call me, okay? I don't care that I'm stepping over my bounds, but you just let me know, I'll work something out for you."
He gets a note card and he writes two numbers, home and cell. He places it face down on my desk and slides it to me. I look up at him.
"Thank you, but I hope it never comes to that."
"Me too." He pauses for a moment. "Your poem is beautiful, I can feel the sorrow and I understand clearly how you feel. It's your best so far."
It still is my best. Because of Mr. Priston, I started to carry a notebook with me. I draw a little here and there but I jot some poems down when they pop into my head. I taped the note card to the inside cover of the notebook so I'd never lose it. Every time I open the notebook I see that note card. His name isn't written on the note card, but I won't forget whom they belong to.
I know what you're thinking. You probably think I'm so strange for keeping this number in my most private notebook and you probably think that Mr. Priston is a pervert, but that's not the case. I need that number in my notebook to reassure me that I can get through all of it, all the things that compel me to write, good or bad, and I can get though it all and still be okay. As for why I don't put it in my cell phone? I guess I don't want any proof that Mr. Priston and I are somehow connected to one another. I don't mean this to sound perverted, but nothing is going on between us, at least not now.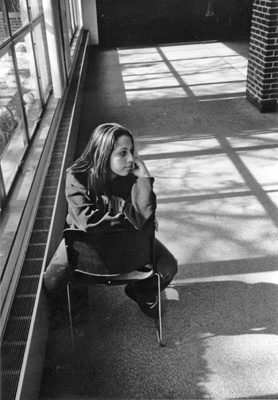 © Leighann E., Westport, MA