The Poems - part one
November 14, 2010
MY LIFE

Do you ever wish someone would notice you and just make you feel wanted? I mean, at home it's just my mom and I, but she's too busy juggling work and relationships to see me and the person I've become. Ever since I was 12, which is the age I could take care of myself, she's been too caught up in her life. Working odd hours at these sleazy, dead-end jobs and bringing home strange men: alcoholics, abusers, married, and even pedophiles; it's disgusting. They all stay for a weekend or a couple of days, some a couple of weeks. I just hate it, all of it, all of them, and her. I hate this small house and how all sounds echo. I hate that once he leaves, I'm left to clean the sheets and piece back my broken mother. But for her, life goes on… and on, and on.

I just hate being home. I feel like a visitor in my own house. My mother stopped being my mom once I was old enough to take care of her. Now I'm the adult and she's the child. I'm the one who buys and cooks the food. I'm the one with a stable job. I'm the one that cleans the house… yet I still answer to her.

I just need to escape. The only other place I turn is school. It's the only place that feels welcoming, which is sad, because high schools aren't chipper places, and far from welcoming. I'm not a loner; I do have some friends, but they aren't the type that you tell your deepest and darkest secrets to. They're pretty much the type of people you keep around to make sure you aren't alone and to feel a little sane. I guess you could say that we're the type of people that don't really fit anywhere else, fall between the cliques, and that's why we sort of group together. But, the place I especially love is English class and Mr. Priston. Every week we hand in a creative work, either prose or poetry, but I'm more of a story writer. I have trouble grasping poetry. Whenever I write it I feel like I'm doing it wrong. I do enjoy writing about people in my high school and the weird things I observe. That's what I am, an observer. I'm quiet and I watch, a bystander to life. That's not meant to sound depressing, but it's just intriguing.

Mr. Priston likes my stories. When he grades my papers, I love to read his comments. His handwriting is so fascinating. It's so unique, yet hard to explain, but it fits his persona. He's 25-years-old, and has dark, almost black short hair, with beautiful blue eyes. Sea nymphs would be honored to swim in his eyes. He has black square rimmed glasses, and he dresses in an almost old-fashioned way: suit, buttoned down shirt, tie, and vest. Usually he leaves his suit jacket on the back of his desk chair and cuffs up his shirt sleeves. It's adorable, because on dress-down Fridays, he wears jeans, and every once in a while it is a pair that have a hole in them. That hole is placed right below his pocket, just high enough for you can see his boxers. He pairs it with a buttoned down shirt, untucked, and the first two button undone showing his white t-shirt, and of course, cuffed sleeves. It's a complete transformation from his day-to-day wear. From time to time, he'll have a pocket watch in his vest, or he'll grade papers with a quill pen. These little differences and quirks are just adorable. He is so unique, smart, and just different from any other teachers that I have had. What girl doesn't wish they could have a shot with him?

This is where it all begins. Mr. Jack Priston is the first person to notice me.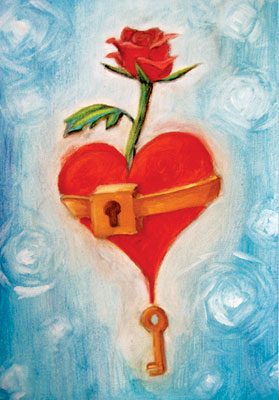 © Louisa L., Pleasanton, CA