A Day In The Mind Of A LoveStruck Teenage Girl
September 9, 2010
Wake up, try not to fall over. Brighten up when he comes to mind. Get ready happily.
Put on makeup as carefully as possible. Choose the perfect outfit. Hope like crazy he will notice.
Eat breakfast—try not to think of him. Think of him and get lovesick feeling.
Harder to eat anything now.
Finish breakfast, walk to school.
Think of him.
Listen to iPod. Sad song comes on.
Think of him.
Arrive at school.
Hope he's not absent.
First period.
Sit in first period hoping to see him in the hall. Think about how he has none of the same classes. Sad feeling deep inside. Heart skips a beat.
First period over.
Go to locker, see him on the way. He smiles. Smile, smile, smile back, dummy!
Second period.
Sit through boring lectures, try to read book. Romance story in book. Try not to picture it with him. Fail miserably. Longing in heart. Missing him terribly.
Second period over.
Walk to third period, see him on your way. He says hi. Say hi. Heart skips a beat.
Third Period.
Only four classes a day.
Almost done.
Running in gym, use him as a motivation. Works out perfectly. Smile and get changed.
Third period over.
Don't see him on the way to fourth period. Sad feeling in heart. Dead weight dragging heart down.
Fourth period.
Last class. Think about him all the time. Don't pay attention to teacher's lecturing. Might see him after school. Just one glimpse.
Fourth period over in a snap.
School's out.
Head to locker.
See him there waiting for you.
What could this be?
Get stuff out of locker. He talks casual. Talk casual right back. He smiles. Smile back! Smile back!
Remember to breathe.
Smile.
Watching him walk away.
Prepare to start all over again tomorrow.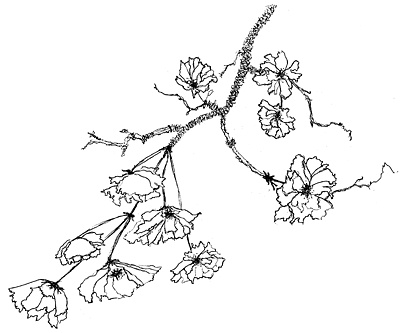 © Marybeth L., Hamilton, NY