Dreaming in Death's Waters
July 25, 2010
Death. In any Hollywood movie when you see the person dying, you see them getting flashbacks of their life's precious moments. The ones slipping away quicker than sand does from the palm of your hand, while the sad truth of reality is carefully being avoided by them since they don't want to accept what's in store. Some people find it unrealistic; I mean does it really make sense? Thinking about your past when you're on the verge of death, when you should be fighting every measly second just so you can live an extra minute in this world. It seems more like something from an overly dramatic book than something that could happen to a real person out in the real world. A world where anything regarding a happy-ending or true love isn't believed, by the practical-type population anyway. But if you share true feelings towards any being, then in those last few seconds of life you will unquestionably see his face smiling at you, giving you all the more reason to break through all the barriers just so you can live another minute under the gaze you would trade anything in the world for…
It all happened so suddenly I wasn't given any time to think or find a way to get out of the situation, it was my fault not that it mattered now, I was, after all being dragged into the horrifying mouth of the sea. I had crossed the depth I could swim to and I knew that I was currently in the situation where I should be screaming my lungs off for help, but I knew it was useless. I was panicking of course but I was clueless on what to do. My brain had disconnected from my body as soon as the storm came in and the safety tips on how to get back to shore in this type situation were washed out of my brain the same way I was being washed farther away from my life, my friends, my family, from him…
It was as if my memory had known my longing to see the warmth of his smile, to remember the contentment his company gave me, something that no human in this world could replace. The feeling I got when he was with me, that was "his feeling" and no matter how much I tried that emotion could not be restored or substituted by anyone else. And now that I'm at my end I feel no shame in admitting that with the absence of his touch, my life has been until now and always will be incomplete. Despite all this I felt a great spasm of irritation towards my memories, the least they could have done was at least show me him before everyone else, so that I could feel as close to him as possible, snatch him away for these last moments and take him up to heaven with me and after my death. I'm sure they wouldn't mind his company, after all he would have a cloudy appearance since he's just a memory, heaven wouldn't become crowded just by adding an extra memory, I'm sure they have places to safely keep memories like him. After all, I could never wish for him to have an ill fate such as dying, I would fight my selfishness, I've gotten enough time with him and he deserves to live his life to the fullest. All I could see ahead of me was an end which I could not avoid in any means where areas he has a long and satisfying future ahead of him, but I couldn't think of my end now, my mind was too busy wandering somewhere else least interested about me ceasing to exist.
I was surprised at how I remembered him in such flawless detail; my mind hadn't left a single feature of his unattended. I recollected how it used to feel when his eyes would be fixed upon my face; their brightness sometimes felt blinding to look at, especially when they were fueled up in concern. His hands were like feathers; their touch always seemed to help me escape the darkness of all my problems and bring in the light. Even long after he was gone they left behind a tingling sensation, proving that he had been there with me, and the sensation always staying long enough so that I would remain calm and relaxed until he got back. Slowly, yet reluctantly my eyes traced the perfect double curve of his lips, lips which had once been all mine. They were the softest baby pink, irresistible to look at, and because I used to have full custody over them I never let go of a chance where I could have them safely locked with my own. The first time that I kissed him, I felt like he was really flying me to heaven (I had always thought of him as my own personal angel sent from the gods) because nothing in this world, no, this universe could compare to what I felt having my lips in full embrace with his. After I recalled that glorious moment, I felt a sharp pang which had nothing to do with the ice-cold water because I felt this in my heart.
I never had my happy-ending and I never will. Why is it that true love only occurs in story books? It takes years to build a relationship that is sincere with real compassion and everything can break in just a minute or thirty seconds. We had been like the yin-yang, no matter how drastically different we were, we were always two parts of the same whole. Nothing could have budged us apart, but now that I'm drifting farther away from him I am also drifting farther away from the little hope I had of bringing him back, of reuniting myself with my true second-half. A half that will forever always be unaccompanied.
I felt a strong pull as if I was being hauled against a force; I expected it to be the current swallowing me rapidly into the bottom of the ocean, once and for all. I was hoping it would be quick so I wouldn't feel regret in any form, I am overjoyed that my last few moments were spent in happiness than in sorrow, so that now I can leave this world and everyone in it with a bright and sunny smile on my face. Just as I'm about to say goodbye I feel my head break through something I creak my eyes open and I see him , his glorious face looking down at me with a horrified expression and disbelieving eyes. I can never be sure though. It might have been a final thought yanked from my subconscious that would have truly allowed me to rest in peace because in the very next moment I passed out into an endless black, cold, and empty hole.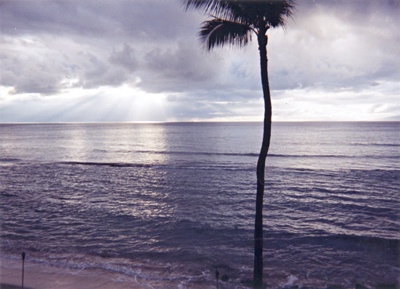 © Grayson H., Highland Village, TX