Two Boys 4
July 16, 2010
It was the afternoon time and I was staring at my closet, it was full of clothes but none of them seemed to look good enough.
Finally I found a pretty 'n' pink summer dress which was casual but still nice.
With that I wore flip flops and I left my hair open.
I was so excited and I thought if I loved Peter then I would not have been excited to see James, right?
This time I dismissed the idea of me loving Peter by giving a perfectly reasonably and valid excuse that I just missed hanging out with him everyday and the treehouse was our place which is the reason I had the dream.

I went downstairs and told my mother where I would be and then with a big grin on my face I set out.
Since the coffee place was just a couple of blocks away,it was a cool day and the chances of sweating weren't there so I decided to risk walking.
I was thinking that this might be the first date after our break up and then suddenly I thought of something, more like someone but this thing made me stop in my tracks and almost run back to my house.
James had a girlfriend and her name was Amanda, all this time I was feeling so ecstatic that I was going on a date with James that I never noticed this fact.
I felt my cheeks turning as red as tomatoes, I was going to make a fool of myself or maybe I already had!
Still I worked up the courage and dragged my feet towards the coffee house only to see James's face.

He was waiting for me in the corner booth and was looking great in the shirt I had gifted him on his birthday, he was fidgeting a lot, a sure sign that he was nervous but then he raised his head and spied me staring at him like a moron, he quickly smiled and came to meet me and I also moved my feet forward.
He came and kissed me on the cheek and said that I looked like a sweet lil doll, smiling adorably.

I smiled and returned the compliment. I was feeling a lot better after seeing his smile, it was so genuine and familiar that it reassured me immediately.
We both sat down and he ordered a cold coffee for himself and an ice tea for me.
We both started talking about normal things and started to have a good time but at the back of my head I kept thinking what was this thing?
Was it a date, or just two friends hanging out??

Then James cleared his throat and started to say something, he looked really uncomfortable, so, all my anxiety came back and I thought James must have guessed what I was up to but then he surprised me by saying something totally different.

"I missed you Izzy,when you went away, I thought about you almost every day, and everyday my heart ached, I didn't understand it, I thought I loved Amanda but I didn't so I...I broke up with her."
He raised his eyes to see my reaction but I was shocked, I didn't know what to say to him.
He continued, "I wanted you back but I didn't think you would take me back as I had messed it all up. Then you called me and asked that favour, I couldn't have been more happier, I thought maybe this way I could get close to you again."

I started smiling when he said that and said, "I wished that too, I wanted to get close to you again too!"

His head snapped up and after a moment a shock he started to smile a little and then he said, "So if this is the case then Isabel Adams, will you forgive me for my stupid mistakes in the past and will you be my girlfriend again??

I smiled and said, "lets give this a shot", and after a second I added," again!"

After this both of us couldn't stop smiling, after talking some more he drove me to my house, this time he got out of the car and went to see my mom who was happy to see him as she adored James.
I walked him to the front door and then we kissed, it was very different from before, this time we both were very nervous and hesitantly kissed each other, but after a moment it was fine.
As I closed the door I thought that this was even more special than our first kiss but I didn't notice that I was not feeling the same things which I felt before until I was in bed and in the dream world.

My dream was in the form of images, me and James getting married, happy times then I was crying and James wasn't there, instead Peter entered my dream and I realized James and I were no longer together, then again the tree house came into my view and the slideshow of the images ended with two little kids running around the tree house.

I got up so fast that I got a head rush but I didn't care, all I could think was what the hell was my subconscious trying to tell me?
Because I just could not comprehend what was happening.
I was in love with James so why was my subconscious telling me something else?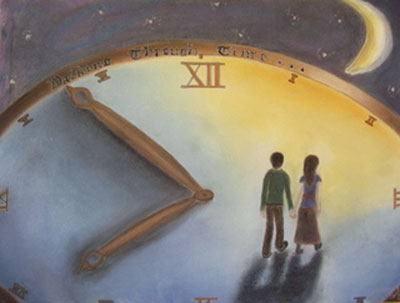 © Carollynn G., Hawthorne, NY