Wayward Smiles
June 8, 2010
She meandered down the hall towards him, taking her time so as to rest her eyes on his face for as long as possible. He wasn't anything out of the ordinary, really, but to her, he was something special. A smile lit up his face, and the momentary flame that it set off in her was extinguished as she realized that the girl behind her was the one at his locker every single day. Of course he wasn't smiling at her (what was she thinking?!); she'd be surprised if he knew her name. She sighed, wondering at the capacity of a single smile to inflict so much pain.
As he put his books away in his locker, he looked up – there she was! He smiled as he saw her, glad for the opportunity to behold her innocent, pixie-like face. He was convinced that she came out of a fairy tale; she was just too spritely to be real. No one else had that mischievous, alluring look about them – but there. Now her cheerful face had disappeared, replaced by one of complete misery. Automatically, his friendly grin was replaced by a drooping frown. Why was it that her emotions affected him so much?
He's frowning at me, she thought desperately, trying to create some kind of self-pity spiral to fall into. He hates me. Reason tried to tell her that he had no reason to hate her, but she countered it, convincing herself that he must know how much she yearned for him. She shut her eyes, scolding herself for being so careless with her feelings. Why did she always show everything on her face?! Couldn't she just keep it blank for once?
There. There she was. That horrible, ugly girl. Why did she always have to follow him everywhere? It wasn't that he encouraged her; that couldn't possibly be it, could it? His mind raced, trying to find ways to shoo the clingy girl away. He'd already tried to be mean – that had ended in his friends accusing him of flirting. Being nice had obviously failed; the last few weeks were evidence. How else could you keep a girl away from you? Why were girls so hard to understand?
She twirled a lock of her raven hair round her finger as she slowly passed him, wishing she knew what color hair he liked. Not so that she would dye her hair for him or anything crazy like that, but just so that she knew something about him that no one else knew. Something that made their fragile friendship something more than that, something special. She cast a glance at the cheerful girl behind her, thinking of all the inside jokes those two probably shared. The nanosecond she had taken to pause by his locker, debating over whether or not to approach him, was over. As the other girl arrived at his locker, tears threatened to take over her own eyes, and she had no choice but to walk away – walk away from the only person she'd ever really wanted to constantly be around, the only person who could ever understand her, the only person she'd ever truly loved.
He searched for a word to describe the way she twirled her hair around her finger; that raven black hair, dark as night. He loved that hair, wished he could twirl his own fingers in it, that beautiful sea of black – was there any hair as absolutely stunning as black hair? Her fingers were so short, so slender. He looked down at his own long, spindly fingers. Did she like big hands? Or small ones like hers? He suddenly wanted to know, just for the sake of knowing something unique about her. She paused for a fraction of a second by his locker, and he took advantage of the moment to watch her out of the corner of his eye as he pretended to busy himself with his books. Then, just as suddenly as it had begun, the moment was over, and the other girl came up to his locker. Why was she here? Why did she always have to come here? She took his hand and led him away, disregarding both the looks he sent backward and his pointed glares at his hand now clasped in hers. She refused to let go, though and he had no choice but to walk away – walk away from the only person he'd ever really wanted to constantly be around, the only person who could ever understand him, the only person he'd ever truly loved.

Blissfully unaware of both the sad glances he sent backward and the angry glowering at our joined hands, I led him onward – and smiled.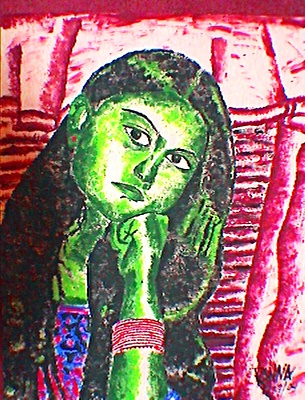 © Ranna C., Monmouth Junction, NJ