Held onto Love
April 7, 2010
Overlooking all that we've been through, I know it was your time to leave this world, leaving me alone. Though the years we've had such great times. I would never trade a moment of it for anything else. You were always what I had wanted.

Who knew that freshman year, the beginning of us, would set the foundation for who we were for the rest of our lives? I know we've changed, but generally we were, up until this last year, the same flirty kids from way back when, just about sixty years older. You with your curly brown hair and green eyes rocking out in your band, guitar in hand, and me, black-haired, brown eyed cheerleader with a slender body. Who would have ever pictured us together in the future? You and me.

We would grow together throughout our high school and college years, you studying to be a scientist and me studying to be a lawyer. We went through good and tough times. Money was tight and we had barely anything to spend. The only thing we actually bought was the necessities, but nothing else. I even thought at one time we wouldn't make it, but we held on. We held on to love.

Your father, the closest one you had in your family, passed away in our second year of college. i found you half dead in the bathtub, blood pouring from your wrists. i cried and prayed to God that they could save you, and God answered my prayers. You recovered with me by your side the entire time of your hospital stay.

We finally finished college, after attending so many long years. We got to start our official lives: work every single weekday, have fun together during our two days off, the weekend. We earned enough money to move out our tiny, beginning to get too cramped, apartment and replaced our living arrangements with a two story four bedroom house. A big step from where we had begun.

I hinted towards marriage because it was the next thing that we could do to share our lives together, and I was ready for it. I was hoping you were too. On that beautiful, snowy Christmas night, with our family all around eating and having a great time, you got down on one knee and of course I said yes! I cried and wrapped my arms around you, smothering you with kisses. I knew, at that moment, that you were seriously committed and we would be together forever as I had dreamed.

Wedding plans were made and in six months we were made into one.

I had always wanted a white wedding, and it turned out to be perfect. My hair was carefully curled into soft swirls and my dress was beautiful. I had to thank my own mother and yours for helping us plan it all. We said "I do," shared our first kiss of marriage, and joined our family for the reception.

The tables were covered in lacy white tablecloths and a vase with pink, red, and white roses covered each one. We talked, laughed, and love shined in both of our eyes. It was the happiest moment of my life, and I hope that you felt that it was for you, too. We were now tied together, tied by love.

A couple months later, morning sickness begun, and I knew that we were expecting. To be sure, I took the test, and it was positive. I called you to meet me at the park during your lunch break.

The sun was shining so brightly on us and as I told you, tears started pouring out of your eyes. It was only the third time I had seen you cry. You held on to me so tightly and danced with me in the sunlight as butterflies flew around the trees, and the aroma of freshly mowed grass floated throughout the air.

We soon planned everything of this new life that we were going to bring into the world. A nursery. Clothes. Everything. We told all of our family and had a party to celebrate.

I remember late one night, my stomach had an awful pain. We had miscarried.

I gently work you up and cried while you held me, cried while you cried. It was one of the worst things I had to go through. A life that I had wanted to bring into the world wouldn't make it. We had wanted this so badly, we had wanted to start a family of our own, but our dreams were crushed.

The next month we tried again, and thankfully we would be brought a healthy baby girl in the next nine months. She was the most beautiful thing I had ever seen, that is, right after you. We carried her in our arms and named her Abigail.

We would have two more children after Abigail: a boy and another girl. You would get to go fishing, hunting, etc., while I got to go shopping with the girls, but we also would go out on family days.

We were the happiest family. I had never wanted anything other than to have you and have a family with you.

Our children grew older as we did too. Wrinkles started appearing and our skin begun to sag. We still loved each other more with each passing day, and the passion was still visibly there.

The day my life started falling in a downwards spiral was when you came back from the doctor one rainy day announcing to me that cancer was trying to defeat your body. My heart sunk because I didn't feel you could beat it, but I still stayed optimistic while driving you to your chemotherapy appointments.

On your last day of living, no hair on your head, you told me that I had given you the best life that you could have possibly ever had. I had been your angel and you wouldn't have traded me for anything in the world.

As tears swelled in our eyes and your breathing begun to slow down, I knew that this was my last day, my last few moments of being able to see your face. I closed the hospital door so it was only you and I. I wanted to say goodbye to you alone.

I kissed you on the lips and told you that you were my everything. Life would be lonely without you, but I knew the place you where going would free you of your battle, of your pain.

"I....I...I love you," you stuttered, your very last few words, and the machines went off.

The doctors said their sorries and gave me their sympathy, but I was going to be okay after a little bit of mourning. We had such a great life together, and I would see you again one day.

You were my everything, and you still are. We held on to love, until death made us part.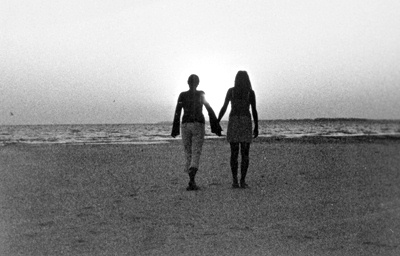 © Kim B., Marblehead, MA