EC+AM=4ever Chapter 47
March 20, 2010
August 10, 2009
The Park
3:00 p.m.


We enjoy warmth because we've experienced the cold. We value light because we've been in the dark. And we treasure joy because we've known sadness.

If I were a more thoughtful, less selfish person, I would've realized this before. And when I was dealing with all of my life's drama, I would've treasured all the joyous moments, rather than feel sorry for myself whenever something went wrong. But I didn't. And now the one person who I'd really loved, the center of all of those joyous moments was gone. And I hadn't treasured a single moment with him until now.

Well, I treasured the time I spent with him, just not as much as I should have. I should have been so much more grateful for all the time that I had with him. But I always had to find some fault with it. Whether it be my indecisiveness between him and Cole or my uncalled for anger that things weren't perfect.

But now that Ash was dead, I realized how lucky I was to have him at all. And I also realized there is no such thing as a happy ending. Life sucks. It's unfair, it's hurtful, it will bring you down, it will cause you so much pain. But if you learn to live it the right way, valuing every moment, it can fill you with happiness, hope, joy, love.

At that moment, I was at Ash's funeral. In fact, I was approaching the front of the small, dismal ceremony to state my eulogy, which I had written for Ash.

His funeral was being held in the same spot that our wedding was held. The park. Under our tree. And I'd hired the same priest to speak. However, now it was my turn. So I stood up in front of everyone and I began talking.

"Most people fall in love, but I crashed into it. My love for Ash was never easy. It was difficult, complicated, and sometimes heart-breaking. But I never gave up, because I knew that he would never give up on me. That was just the kind of guy Ash was. He was a fighter.
But I'm not. I usually smile and then go into my room and cry my eyes out. I'm afraid to let people know how I'm feeling inside, so I put on a mask. But when I was around Ash, that mask disappeared. And I didn't even have to try, it just happened.
I will never forget Ash. And whenever I begin to feel like I am forgetting him, all I'll have to do is close my eyes and remember. Remember all the times that we've had together. The laughs we've shared, the love we've kept for all this time. And yes, I will miss him. It's pretty hard not to.
And I've already begun to realize how much slower time goes by when you're missing the one you loved. Sometimes, when just one person is missing, the entire world feels depopulated. I know that. I'm experiencing it right now.
But we shouldn't frown upon what is gone. We should cherish what was once ours. It's true what they say: we don't know what we've got until it's gone. And now that Ash is gone, I feel his absence, like a heavy weight on my heart. And sometimes, I lie awake in my bed, wishing that I could've done something to help him. But there was nothing I could do.
And it will be hard to go on without him. Life without love is like a tree without fruit. But there are many things that Ash has taught me and I've learned many lessons from him. Although, the one thing that I will always keep in my heart is that to the world you may be one person, but to one person you may be the world.
Yes, Ash was the world to me. And yes, he's gone now. But I know that he wouldn't want us to live our lives in grief. He would want us to remember him and honor what he was: a hero. Not only to our country, but to each and every person that knew him.
Ash was a remarkable person. He was always kind, always generous, always put everyone else before himself, a very forgiving and understand person too. And he never asked for anything in return. He was never boastful, never proud, never arrogant.
He was the only person I've ever known that could get me to smile even during the most depressing times. I'm sure you all have your own special memories with Ash, I know I do. I also know that Ash was a very positive, very happy person. No matter what happened to him, he always stayed strong.
So I no longer cry on those nights where I just can't stop thinking about him. I smile, because I got to experience life with him. I got to learn from him, to grow with him, to love him. So yes, I smile.
And each and every one of you should do the same. For him.
Thank you."

The small crowd of people applauded, tears in their eyes and I stepped down from the podium that was set up at the head of the ceremony. But I didn't walk back to my seat yet. Father Mulligan had asked me to stay up there because he wanted me to place the American flag, a symbol proving that he served in the military, upon his coffin.

So Father Mulligan got up there and announced to everyone that it was time for me to place the flag on his coffin. So he handed me a folded up flag and led the whole group up to where his coffin was placed. It was a beautiful coffin too.

The shiny chestnut wood glimmered in the sunlight, which was peaking through the branches of the large oak tree. As I stepped up to it, I tried my best not to cry. But this was my official goodbye to him. I had to cry. So I did.

And then I placed the flag on top of the coffin and two military officers stood on either side of the coffin, and each grabbed a side of the flag. Then they pulled the corners out so that the flag was now spread out evenly upon Ash's coffin.

"Hey," I heard someone say from behind me. I turned to find Kristy standing there. I hadn't even seen her when I was up there speaking.

"Hi," I replied.

"I'm so sorry about Ash." she said. "I know how much you loved him."

"Yeah," I responded. "I do."

She sighed and then looked up at me, "And I'm sorry about the way I acted too. I was being rude and selfish and over-dramatic and completely unfair. I shouldn't have treated you that way and I'm truly sorry. Please forgive me."

I gave her a weak smile and then enveloped her in a hug. "Of course I forgive you." I said.

We broke out of our embrace and she smiled back at me. "Thanks." She let out a soft sigh of relief. "Oh yeah," she added, "I brought someone else here with me. He wants to talk to you."

Then she turned to her right and motioned for someone to come here. To my surprise, Cole walked up to me. "Hi, Evalynne." he said. Kristy gave me a small grin and then left us to talk in private.

"Hi," I said back to him. "You flew all the way out from Michigan to come to this?"

"Of course I did." he cried. "I heard from Kristy that you and Ash married and at first I was kind of upset, but after a while I got over it. And I was happy for you. But then when she told me about how he…passed away, well I had to come make sure that you were ok."

"So you don't totally hate me for choosing Ash over you?" I asked.

He shook his head, wrapping me up into a hug. "I could never hate you. You're one of my best friends."

I pulled away from him, feeling a bit better. "We can still be friends?"

"I'd be disappointed if we couldn't." he replied.

"Me too." I told him. "I've really missed you."

"I missed you too." he agreed. "And I'm only staying in town for a week, but that doesn't mean we can't still be friends after I go back to Michigan."

"Good, because I'd hate to lose you that easily." I said. Why was it that in order to gain my two best friends back I had to lose the love of my life?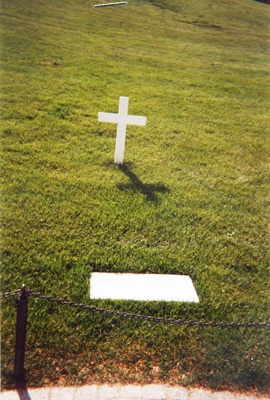 © Whitney T., Glenpool, OK