When I thought I was in love
February 10, 2010
I remember the first time I looked into his eyes. They gleamed a perfect brown with different touches of light. The little dark pupil inside was much lighter than other peoples' and it was beautiful. He didn't even have to say a word for his words spoke for him.

His brown ruffled hair was always shiny and smelled wonderful. His skin was always warm and tingly next to mine. His long fingers would intertwine with mine and make mine so much warmer.

He would always whisper in my ear in his sweet masculine voice that sent a shiver down my spine. He would always smile when he looked at me and even more when it was directly to my eyes. He always made me smile even when I had a really bad day. He would say everything that I wanted to hear. He would always hold my hand and rush over to me every time a class would end.

When we had to be apart he would always put a frown on but would always say "Can't wait to see you again!" On all the valentine days' he would get me so many gifts that it would be hard to carry them all. He would always make me laugh and would always say how beautiful I was. He was such a gentlemen that he would always hold my books for me and my back pack.

While growing up together he finally got the courage to ask me on our first date. He did it in a very nice and gentlemen manner. He had finally gotten his drivers' license and drove me to the beach. We had our little picnic right at the shore. We danced to "our" song on top of the very soft and warm sand. He would support me with his big muscular arms and made sure I wouldn't fall.

Then the sunset came. We both sat on the blanket staring out into the horizon at the orange, purple and yellow colors fading away. I lay my head on his shoulder where it fit perfectly as to what I thought for the rest of my life, but I was very wrong.

Our lives continued on until he finally asked me the big question on his knees with a big and shiny diamond ring. Our wedding was like any other. Red roses everywhere a perfect white gown, a perfect tux foe him and all of our dear loved ones. As I walked down the isle he smiled and had a tear running down his cheek that was of joy that made me smile and blush. As he said "I do" my heart pounded ridiculously hard and even more as he took me in his arms and kissed me with his wonderful soft lips.

Our honey-moon was spent in the island Fiji and it was wonderful. He treated me like royalty and served me from head to toe. He was the perfect husband. At least that's what I thought.

It was our third year being married. He lay on the leather couch staring at the TV watching ESPN. These days it felt so lonely in the house. As I was doing the dishes I stared at the bruises on my arm. How could he do this to me? I asked myself. I finished drying the dishes and sat next to him with exhaustion of all the arguing. As he turned to look at me, the old Daniel I used to love was gone. The gleaming light that used to come from his eyes was completely gone. Now his beautiful eyes were dull and very dark. On top of his head was a huge bald spot. His beautiful brown hair was falling off making him look older than he actually was. As I shifted my eyes downward his once muscular body was gone. He now had a huge fat belly that would stick out. His arms were all saggy with fat. I sighed at how much he had changed.

"What the hell is matter with you!" he yelled. "Nothing honey" I replied. "Don't give me that crap!" he yelled once again. Great he was drunk again with Budweiser. I saw the can of beer in his hand that he put down and took another from the six-pack on the coffee table. "Honey stop drinking! Don't you see what its doing for you?" I asked with worry. "All you need to do is shut the hell up!" he screamed while stumbling because he tried to get up. "Don't…" I whispered while covering my face. He took his hand and slapped my face so hard that you heard a crack. He had broken my jaw. How could I ever love a man that treats me like this?

He started laughing at my pain and kept hitting me and now it was with his beer cans. He poured beer all over me and would punch and smack me. It looked like he was having the greatest time of his life. Then he got out of control. He walked to one of the kitchen drawers and grabbed our biggest knife. I was shaking really hard now. I'm going to die… I thought.

He put on a huge smile on his face while walking back over to me. "Good-bye honey!" he whispered while laughing his evil smile and raising his arm where he held the knife and stabbed me over and over again. This was the day I died and when I realized I never loved anyone.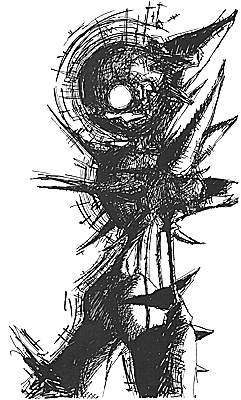 © Tag H., Galesburg, IL