EC+AM=4ever Chapter 18
January 6, 2010
June 15, 2009
Evalynne's House
Midnight



Dear Diary,

I know it's late, but I just can't fall asleep! I'm too excited! Ash and I are going to get married in a month! The wedding will be on July 20th. He's already eighteen, but I turn eighteen on July 20th.

So my birthday is just in time for the wedding! Only two weeks before! I just don't know how I'm going to tell Mom and Dad. They're already angry enough that Ash is staying with us. How will they feel when they find out that I'm getting married to him soon?

And what will The Queen of Mean do? What will Kristy do? Will she even come to the wedding? Probably not. But maybe if she finds out we're getting married, she'll realize how much we love each other and we can be friends again.

Then she can be my maid of honor. If not, I'm not sure who will. I know my parents will come. Even if they are mad about it, they'll come around. I know that for sure, because my parents love me with all their hearts. I just hope that Ash's mom comes.

You know, Ash and I are kind of like Romeo and Juliet. Except instead of it being the Capulet's vs. the Montague's, it's the Carter's vs. the Mongolia's. Both of our mothers hated each other. And his mom especially had it out for me. But that wasn't going to stop us from being together. Let's just hope that no one tries to kill themselves.

I really hope his mom does show up though. For Ash's sake, not mine. But I have a funny feeling she won't. Who knows though, maybe she isn't as horrible as I thought. Maybe deep down inside of her there's actually a bit of kindness. Maybe she'll come to the wedding just so that Ash knows she still cares.

Well I'm going to get to bed now.


The next day I woke up and walked over to Ash's room. I peeked through the door, which was mostly closed, but open just enough so that I could see inside. He was just waking up.

"Hey," I said, opening up the door half way.

"Hi," he replied, standing up. He walked over to me and kissed me softly.

"I was just thinking that since our wedding's in a month, you should probably have a ring too." I told him.

"That's true." he agreed.

"Do you want to go pick one out with me today?" I asked.

"Sure," He smiled and we walked downstairs for breakfast. "We should decide who we want to invite by tomorrow. I know it's kind of sudden, but people should know a month ahead of time."

"Yeah, I agree." So we sat at the kitchen table with a pad of paper and a pen. "My parents, Kristy, her parents," I began naming off people and he began writing down names. "I kind of think it should just be really small,"

"Yeah, I agree," he replied. Then he stopped writing and looked up at me, "Wait a minute, did you say Kristy? I thought she was mad at you,"

"She is, but who knows? She might come. I want to at least, invite her." I replied.

He sighed and wrote down her name.

"Ok, well it's your turn to start naming off people." I said.

"I can't really think of anyone."

I looked at him quizzically. "What about you mom?"

"Yeah, right, she won't come." he murmured.

I put an arm around his shoulder. "You don't know that. We should still send her an invitation."

He bit his lip, "Ok," Then he wrote her name down. "Anyone else you can think of?"

"Not really, how many people do we have so far?" I asked. He handed me the guest list and I read it off in my head.

Guest List For Wedding:

1. Evalynne's parents
2. Kristy
3. Kristy's parents
4. My mom


"Ok, if we add everyone up including ourselves that equals eight people." I said.

"Wow, that's not very many." he commented.

"Yeah, but that's ok. There's nothing wrong with a small wedding."

"Yeah, you're right. Although, I'm sure only seven out of eight people will show up." he muttered.

"Ash, your mom will come." I told him, not fully believing it myself.

"Yeah, she'll come." he told himself halfheartedly.

I sighed, "Why don't we start deciding on the time and place?" I suggested.

"I already know the perfect place." he said, his face lighting up. "At the park, we can get married under our tree."

"Oh my gosh, that is perfect!" I cried.

"Cool, so we know the place. What time?" he asked.

"Um, I don't know. How about three o'clock?"

"Ok, July twentieth, three o'clock, at the park. We can just tell everyone to meet at your house and..." he trailed off at the end. "Would we take a limo just to go to the park?"

I bit my lip, thinking it through. "I don't know, what do you think?"

"I think it's kind of pointless."

"I agree." I said.

"Ok so should everyone just meet at the park then?"

"Sure, that would work." I agreed. "Why don't we start looking for a priest today?"

"Ok, wow, this is easier than I thought." he said.

"Yeah, it is. Ok, now here's the big question. How are we going to pay for all of this?" I asked.

"I don't know, but it's not like it's a huge wedding. It's just going to be like, a forty-five minute ceremony and maybe we can go out to dinner afterwards. That shouldn't cost that much money."

"Yeah, that's true. And I'm sure my parents will pay for like, half of it anyways."

"Ok, but we still have to tell your parents." he reminded me.

"That's true. We can tell them tonight at dinner." I said.

"Ok, that works for me."

"Alright, so let's go over what we have to do today. We need to go find a priest, get you a ring, get some invitations, and tell my parents that we're getting married."

"Wow, marriage is a lot of work." he said jokingly.

I laughed lightly, "Yeah, but it'll all be worth it."

He nodded in agreement, "Yeah, it will."

We finished our breakfast and got into my car. We were off to pick out Ash's wedding ring. Ash suggested going to the same jeweler that he had went to for my ring. It was just a local jewelry store that selled extravagant things for prices that weren't too bad.

When we walked inside we asked the jeweler if we could take a look at a plain silver band that we spotted, so he pulled it out of it's glass case for us to take a closer look. Ash and I both loved it, so we got one in his size and bought it. It only cost three hundred and fifty dollars for the ring, which wasn't too bad.

I looked from Ash's wedding ring to mine and smiled to myself. Ash and I were really getting married. It all seemed so official now that we both had rings to prove it. And I felt even happier than I was that first time Ash and I snuck out to the park.

After that we drove to the church that was just a couple minutes away from my house. We walked inside and asked if we could speak with their local priest about preparations for a wedding.

It turned out that he was home sick that day, so we scheduled a different day to meet with him. So we decided to meet with him on Wednesday.

"Would it be ok for us to marry in the park or do we have to marry in a church or a chapel?" I asked Ash as we walked out of the church.

"No we don't have to, but I think the priest has to like, bless the place where we decide to marry." he replied.

"Oh," I said. Then Ash and I climbed into my car, and as I adjusted the mirror overhead, I caught a glimpse of Ash's face. He was looking at me as if he were about to tell me something, but then he just sighed and turned to face the window. Just like yesterday night when we were leaving his mom's house.

I knitted my eyebrows together, what did he have to say to me?

I decided not to ask him because I didn't want to make him mad and ruin this happy moment. So I just forgot about it.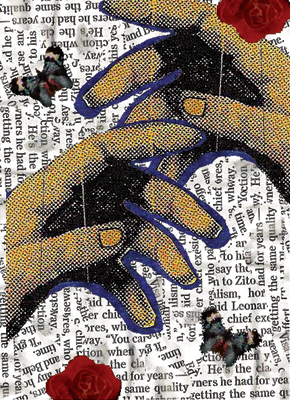 © Christine S., Arlington, VA