Twisted Laughter
December 11, 2009
My head and hand lay on his chest, my fingers tapping a tuneless song in rhythm with his heartbeat. His eyes were closed but I knew he wasn't asleep. A smug smile seemed to be carved on his perfect lips; I wondered what he could possibly be thinking about. The numerous rings placed on my long fingers made rainbows dance on the walls as the bright sun shone through them. Today was our birthday, March 4th. It only made sense that we spend it lying on the bed in total silence, right? Well, yeah, not today.
I broke the silence first. "You know, we should go walk." Jack lifted up his head as best he could without disturbing the peace that took so long to make. "Why? Its perfect, right here." He knew me too well-and still does- so he started drawing circles on my back with his hand. It immediately calmed me down before I could blow up. We were quiet for a while, an aura of victory floating around him until I said, "Well, I don't know," lazily; the circles were making me sleepy. "It just feels right." The circles stopped. He knows that when I say it feels right, it's usually right. See, I know when something is about to happen, and its better to be there than to miss it and have to here the drone of news anchors to find out what it was. "Alright, fine," He said, feeling defeated. He wasn't up for it, I could tell, but up enough that he gently slid me off his chest. He stood up and threw on a black shirt, and his orange and yellow striped sweatshirt on top of it. The hood had landed on his head, tousling his hair perfectly. His black hair stuck up in all directions from the static electricity. I was putting on my black ballet flats and my thirty-sizes-too-big black sweatshirt on top of my orange shirt when my hood fell on my head as well. My hair didn't cooperate like his did, and turned into a rat's nest. "Hold on," I said, annoyed. I stomped into the bathroom, tugging the plastic brush through my hair, hissing in pain. He came in, sighed, and took the brush from me. "Let me do that," his sweet voice suggested. He gently pulled his fingers and his brush through my hair. Before I knew it, my hair was perfect. He spun me around and placed a small kiss on my forehead. I smiled and got shivers down my spine. He walked out.
I stared at my reflection, wondering how he could love such a Plain Jane. Mousy brown hair, dull brown eyes, and freckles that almost completely covered my face. "Gah," I huffed, walking out of the bathroom. My steps were unsteady, and I reached for the wall in search of balance. I was clumsy, but this was unusual. "Hmm," I thought, continuing on to the door.
He stood next to the open door, waiting for me, the sun giving his pale skin a slight glow. I smiled. I knew why I loved him, at least. We both looked out at the suburban maze called Green Valley. I considered it an over priced neighborhood, where the women were just as plastic as their pageant daughter's Barbies. Just as promiscuous, too. "I can't wait till we leave," I said quietly to Jack. He nodded and put his hand on the small of my back, closing the door behind us. We walked, hand in hand to the park. This is where I am truly happy. Children swinging through the air like trapeze artists on swings. Laughter dancing and twirling in the words spoken by mothers and kids alike. Where the slide is a magic portal, leading to a castle filled with bubblegum and gold. Where the auras that I saw were bright happy colors.
I gave him a mischievous smile before saying "Let's run." I left him in the dust, stumbling down the hill into a soccer practice. At first the kids were confused but when I started kicking the ball around with them they caught on. Soccer parents looked frightened, but the coach gave me the thumbs up to keep going; the kids were loving it. Reds and yellows and blues and purples swirled around me, as I narrowly avoided head-knee collisions. Jack looked down at me from the top of the hill, smiling. I loved his smile, crooked and uncertain. I gathered the kids around me in a circle, and told them I had to go. The ritualistic "awwww" took place, but when I told them I would be back next week they rejoiced. One boy even broke down into disco. I jogged back up the hill to Jack, tripping. He caught me, grabbing my waist and left hand. "How about we dance instead?" He asked, and started twirling and twisting me around. We weaved through a chaotic basketball game, through the maze of slides and around the children's groups. We stopped, and I smiled at him. Jack had spontaneity about him that I enjoyed. Parents looked at us oddly, and children had begun running in circles around us, pretending to be airplanes. Jack bent down, looking as if to tie his shoe. But when he looked up and I saw the black velvet box, I knew that that hadn't come from his shoe. "Emily Lynne," he began, a bright sparkle in his eye. My eyes were wide, my mouth closed tightly. "I promise to love you today, and every day of forever. Will you marry me?" My jaw dropped and a tear slid down my face. His aura was now a bright gold, sparkling and bubbling like champagne. I smiled, nodding quickly. "Yes." I whispered. He grabbed me by the waist and picked me up. "I love you," He said in my ear. Words of adoration and congratulations were said by the parents, mothers especially. Nothing could ruin this moment. Ever.
I listened to the laughter twisting with the air, auras all around us were bright. I thought, How could anyone be said right now? I knew I would never be sad.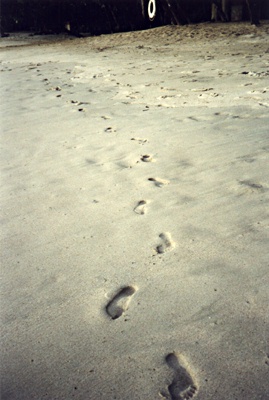 © April W., Rogersville, MO