Ellsbury
November 11, 2009
Every so often I spot Charlotte from my window. She lives with me, dropping in here and there. We rent the room upstairs, in the apartment above her work. It's less money than living on my own and because she works in the bar, we get a break on the rent. We aged together, and now she was nineteen and I was sixteen, quickly turning seventeen in three months.

Today, I spotted her briefly while writing my name, Gary Creswell, across a piece of paper I was fumbling. It was raining out, as it normally does in London, and she fluttered quickly across the back alley of the pub, towards our apartment. I heard the swift clink of the door, stiffened from age, as the knob turned. She walked in, brusquely; a bit wet and shut the door behind her. I was still sitting at my desk when she walked in, still trying to write something that wouldn't go down on paper, staring out the window, and bluntly scaling back my imagination for something to do. I could hear her heels hit the soft wooden floor, finding their way to our bed. She sat down and ruffled the sheets to draw attention to herself.

I turned around after realizing she wouldn't give up so I put down my piece of parchment and watched as she rustled her high skirt now, picking at the dark fishnets that marked her supple legs. She looked up at me congenially and then I turned back to my work. She laughed lightly and then out of curiosity, I turned back to her again. She ran her hands up her wet legs and laughed at me, it seemed as if she were taunting me.

She was a flapper, in style, and one of the finest looking women in all of England. She knew how to play games. Her tight corset blossomed of a dark blue and flushed her breasts forward, pointing to her narrow and poignant face. She was beautiful, no doubt and her gentle green eyes approved of it.

She called me over with her delicate finger, asking me to help her out of her attire. I knelt down and ran my hands up her leg, gently sifting her stocking down. Then I tried the other and she asked me off, to fetch her a drink from the bar below.

The streets of London were no matter of fancy. They were cold and dank, wet from the rain, and my shoes clattered on the stone embroidered alley as I walked on them. I followed the path to the pub, and pushed the thinly drawn wooden door open.

Most of the men I could see were drunk and hung over their ladies with potency. They drank ale or beer boisterously, telling stories to one another. I overheard a man speaking about the pictures. About some actress who was in town for production. I didn't pay him much mind, and went to the tender asking for a drink. "Something light" I told him, and I watched as he concocted a subtle mixture. When he handed it to me, it was in a fancy glass strung with a small toothpick and olive. Then I finally retreated towards the door of the bar, nearly having been brushed by a man acting out some courageous feat he deemed grand off the open seas. I levied myself through the narrow back alley and clambered up the stairs with the alcoholic beverage.

When I walked in, I found that Charlotte was still lying on the bed. This time she was staring at the ceiling, and jumped up at sight of me. She probably didn't know who it was at first and smiled when she realized who it was. Then she dropped back down on he bed.

I placed her drink on a bedside table, and she eventually reached for it, drinking sparingly. Then, poking at her hair she pulled out a few long feathers, to recline back on a pillow. She was still half dressed. Her upper thighs laid exotically crossed, and her upper chest was slanting to the right with her body. Then she spoke, dazedly, "Do you love me?" She usually asked me this after too much work in the bar. If she wasn't drunk I don't know what to call it. She always had this problem. I believe every beautiful woman did.
Nevertheless, I was a bit perturbed by the question. I didn't know if I loved her. I had never been in love.
"Why such a question," I answered back. Then she sighed, placing her drink down. She got up from bed and slowly made her way across the flat. Her clothes followed her, slowly sliding off as she undressed. I caught a glance of her smooth curves, her silky skin and wide swaying hips. Before long she closed the bathroom door and I could hear the sound of water sprinkling from its faucet. I was left to wait for her return.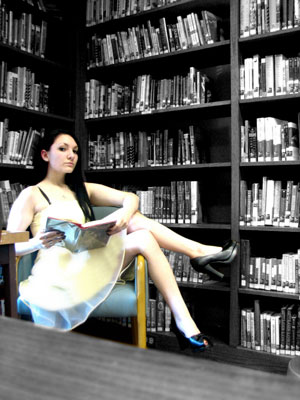 © Jessica F., Bradford, MA