High School Drama
October 22, 2009
There she stood, her golden hair glistening under the school-hallway lights. Her face was lit up with that stunning smile of hers; her beautiful laugh rang melodiously through the air. I should go say "hi," she is my girlfriend, after all. But, she's with her friends. She said last night on the phone, before she hung up, that she had to talk to me about something? I should go before she notices me. Uh-oh, too late…..
"Trent! I've been looking for you!" she called as she waved at me. The group of girls who were crowded around her all fell silent for a second. Their eyes met mine full of pity.
"Oh, hey, Gina. What did you want to talk to me about last night?" I gulped out. She started walking through the front doors of the school building.
"Let's go! It's more of a private conversation."
I followed her out, my heart practically about to burst out of my ribcage. She turned to walk down the sidewalk, the way back to her house. I fell in step beside her. I should hold her hand, but she seems like she doesn't want to hold mine. I took her books, adding them to my already humongous and heavy stack.
"So," I prompted, looking down at her.
"I don't know how to say this," she started, still not looking at me. Her eyes were focused on the gravel of the sidewalk. "But, I-I think we should take a break from each other."
I could hear myself gasp. The books almost toppled out of my arms. I struggled to regain their balance, and mine.
"What? Why?" I answered.
"The magic between us is just- gone."
"But, Gina, I thought-"
"Trent, I'm sorry, but it's over," she finished. She stopped in front of me, snatched her books up, and ran the rest of the way home to her house.

She just broke up with me? Me, one of the most popular guys in the entire school. Me, the quarterback on the football team? We were perfect together! At least, I thought so……..

I turned to walk home, to my house. My head began to flood with thoughts. Now, I know why all those girls looked at me like that. She probably told everyone in the world, but me! Ugh! I hate her, and yet, I'm still in love with her. Why do we have to have feelings, if all they do is make us feel miserable?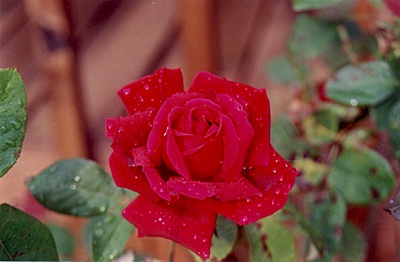 © Jami U., West Hempstead, NY