Killer Eyes; part 1
September 26, 2009
I laugh as my friend, Max, shoots another spitball at the nerd in front of the room. Max gives me a high-five and rolls up another paper ball. Hearing the faint squeak of the door, I glance up. A girl walks in and heads to the teachers desk. I turn my attention away, uninterested. My eyes swept over the classroom checking out the scene. Max continued shooting spitballs while girls looked on admiringly. My on again, off again girlfriend, Carrie, was with her usual posse of mean girls. A group of punks huddled in the corner arguing about a new punk CD that came out today.
"Excuse me," an annoyed, high-pitched voice spoke beside me. The girl who walked in earlier eased by Max and me to sit in the desk behind us. I shot her a disgusted look and turned back to my realm of students.
Being the most popular boy in school, star quarterback, and student body president had its perks. I ruled the school, with the most popular girl by my side. I smiled at the group of girls whispering and pointing in my direction. They giggled and turned away. The sound of clacking stilettos neared me. Carrie leaned down and kissed me. I pushed her away and she glared at me with her arms crossed.
"Why won't you kiss me?" she demanded.
"Carrie, I told you this past weekend we are over. For good now," I leaned back in my chair. I heard an audible gasp throughout the room. I could see the fire flash in Carrie's eyes.
"Why do you have to be like this?" she sputtered.
"Why do you have to make fun of all the other girls that aren't cool enough or aren't skinny enough? I happen to know that some of them are really awesome," I retorted. Carrie opened her mouth to retaliate but nothing came out for once. She stormed off and I grinned. The bell rang, signaling the end of the period. I grabbed my backpack and strode into the hallway. Luckily, my locker was close by, so in less than a minute I was turning the dial to open my locker. The bell rang again and students rushed to get to class. I took my time, putting in books and taking out my Chemistry textbook. The hallway was soon silent. I sighed and let the silence comfort me.
That all ended when there was a loud crash a few feet away. I turned and saw the new girl sprawled out on the ground. Her dark brown hair was spread out around her and her eyes were closed. Panicked I ran over to her and checked her out. I noticed that her small, blood red dress clung to her body in all the right places. I took her head in my arms and leaned down. She was breathing really fast and shallow.
"Hello?" I whispered. Looking down at her schedule, I saw that her name was Alexandra. "Alexandra?"
"Help me," she whispered lowly. I leaned down again to hear her. "Help me."
"What happened?" I almost shouted. Her eyes opened a little and I could see that they were a dark blue with a little purple around the edges. They were the most beautiful things I had ever seen.
"Help." Her mouth formed the words once again. She closed her eyes and her body went limp.
"Help me! Help me!" I screamed; tears streamed down my face. "She needs help. Somebody help me!" My vision blurred and I heard a sea of voices around me. I shut them out. I had to help the girl with the killer eyes.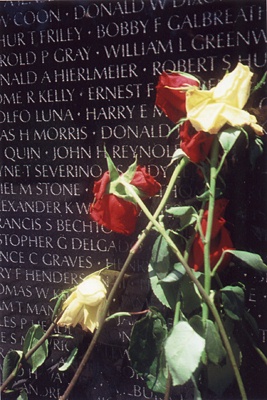 © Justin R., Angola, IN