Paul's Peach Trees
September 26, 2009
I remember the days when Paul and were young, we had such fun together. We would swim in the cool creek just past the edge of the woods, the cool water caressing our backs after our days running around in the fields.
The fish would swim and tickle our toes. He would look at me and I back at him. When it got dark we ran home through the tall trees that were our shelters from the rain.
In the springtime the creek was lined with fresh trees and we would steal the peaches from them. We went through town and hopped the high fences rushing to get to the creek.
Our feet were covered with dirt and mud and on the days that it rained, we ran through the many fields that lined the town.
We were drenched and covered in the sweet earth but we didn't care.
We were too young to care. And when we got older he would get jealous when I talked to the other boys.
I didn't love him, he was best friend and like a brother, but I didn't love him.
He watched over me and took the blame when I did things wrong. I tripped many a times and when I hurt myself, he would pick me up and carry me back to my house.
We would chase each other down the creek and I would jump on his back and we both collapsed into the water.
I went down to the creek one day at the time Paul told me to be. I was sixteen and totally care free. He said he had something to tell me naturally I was nervous.
he knelt down on one knee and took my hands in his and asked me t marry him.
I looked at him and I just couldn't see myself married to him at sixteen years old. I told him and he ran back through the woods looking for me.
It was dark and i lost my way. I curled up and cryed,why had i said such things.
I walked home to find Paul, to apologize, he wasn't home so I went to look by the creek.
He wasn't there and no one had heard from him. Me and some of his friends went through the forest to look for him.
We found him. Hung by a rope from the top of a tree. I went numb and almost collapsed.
He took his knife and in the bark of the tree and put our initials and the words I always loved you.
I went down to the creek every once and a while. I thought about eating the peaches that come every spring, but it just didn't feel right about eating them without Paul with me eating one too.
Everyday I thought about him and I found that I made the wrong choice that day.
I had always loved him and I missed him. And in the bark were still our initials and under them I scrawled the words, with knife that was stabbed into the tree, I love you too.
I climbed up the tree and sat on the bracnh that he died on and I felt his presence with me.
It felt like old times, like he was still sitting right next to me. I left on the branch I balanced a single peach form Pauls peach trees.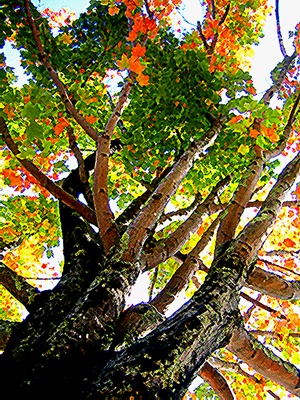 © Kathryn R., Shelby, NC