EC+AM=4ever Chapter 12
September 24, 2009
June 11, 2009
1:00 p.m.
Ash's House


"Hi, Evalynne," Ash greeted me when I knocked on his door.

"Hi," I replied.

"Come on in, my mom doesn't get off of work until two-thirty." he said.

I stepped inside and we both sat down on his couch. "Ash we need to talk about this dating behind your mom's back thing." I told him.

"What's there to talk about?"

"I don't think we should do it."

His face was a mixture of dissapointment and confusion. "Why not?"

"Because it doesn't feel right. Your mom was so happy to see you at her door yesterday. I just can't betray her like that. I don't care how much she hates me, I just can't do that to her."

"Well what are we supposed to do then? How are we supposed to be together?" he asked me.

"Maybe we shouldn't be together. There's so much getting in our way. Maybe we're not meant to be."

"Evalynne, don't say that."

"But it's true! Nothing's working out for us. And I'm not happy, Ash. Are you?"

"Not really," he confessed.

"Well then we should just forget each other." I told him. "Act like we never met,"

"How do we do that when we live right next door to each other?"

"I don't know, but we're going to have to try. I love you, but I can't be with you. And you can't be with me. This is the right choice, Ash. Everything will fall into place from here on."

He shook his head, "No, Evalynne, it won't. It's not the right choice if we aren't together."

"Maybe it is, maybe it isn't. But there's only one way to find out. We have to end this." I said, although I knew ending my relationship with Ash would one of the hardest things I'd ever had to do.

"You can't be serious. This can't already be over."

"Ash, I know it's hard, but this has to happen. Do you know how horrible I'd feel if I split you and your mom up. You were so upset when she kicked you out. I can't let that happen again."

"Ugh, life isn't fair." he groaned.

"Yeah, I know. And I'm sorry." I said.

"Sorry for what?"

"Falling in love with you,"

"You shouldn't apologize for that!" he cried.

"But if I never fell in love with you, none of this would have happened. I should have known that this would never work out. You and I weren't meant for each other."

"What is that supposed to mean?" he demanded.

"Take a look at me and then take a look at yourself. I'm an unpopular, ugly, dorky girl with frizzy hair. And you're this smart, funny, amazing guy who can have any girl he wants."

"But Evalynne, all I want is you." he told me.

"Ash, please don't make this harder than it has to be." I replied.

"Don't you know how hard it already is?"

"Of course I do, and it's just as hard for me as it is for you. But we can get through this."

"Maybe you can, but I can't. And I'd be lying if I told you that losing you was something I could handle, because it's not."

I shook my head, "No Ash, don't say that. You're just making me feel even worse."

"Well I'm sorry, but trying to forget about someone you love is like trying to remember someone you never knew. I just can't do it."

"Well maybe we can still be friends, say hi when we see each other, hang out every once in a while. I wouldn't feel as bad about that." I suggested.

"Friendship usually ends in love, but love in friendship--never." he said.

"It can if we wanted it to." I told him, knowing that it really couldn't.

"You know that's not true. We love each other, Evalynne. You know that, I know that. So why are you trying to hide it?"

"I'm not trying to hide it, but when you love someone, saying goodbye can be the best thing to do."

"Yeah, and it can also be the hardest thing to do."

"That's true, but life will go on." I told him. "I'm done arguing about this, Ash. We're over." It pained me so much to say those words, but I had to.

His eyes looked cold and distant. "Fine, goodbye."

"Goodbye." I stood up and walked out of his front door. To my surprise, I wasn't crying. But I felt emptiness, a huge loss. I just hoped that I was doing the right thing.

Later that night, Mom and Dad came home from work and Mom immediately went up to my room. "Anything happen with you and Ash today?" she asked me.

"I broke up with him." I replied, barely able to say those five simple words.

"Oh," Her face was expresionless so I didn't know what she thought about my decision.

"Was it the right thing to do, Mom?"

"I don't know. You tell me. Do you feel like it was the right thing to do?"

"I don't know." I confessed. "I just feel empty."

"Well it'll take some getting used to, but I'm sure you'll get over him soon enough. If not, then maybe this wasn't the right thing to do."

"So you're pretty much saying that I should just wait and see if this emptiness goes away?" I asked.

"Pretty much," she replied.

"Ok," I wasn't sure how long it would last, but I hoped it didn't last very long. I just wanted to forget about Ash. Maybe if I did, Kristy would forgive me.

She smiled and walked out of my room and I glanced out my window. Ash's blinds were shut. I kept picturing Ash with the look he had on his face when I'd walked out of his house earlier. Except it wasn't Ash, at least not the Ash that I knew. The happy, funny, smiling Ash that I had fallen in love with.

This was a depressed, heartbroken, empty Ash. And picturing his face in my head over and over again had been enough to make me lightly sob earlier. Why was it so hard to forget about him? Why couldn't I just get over him?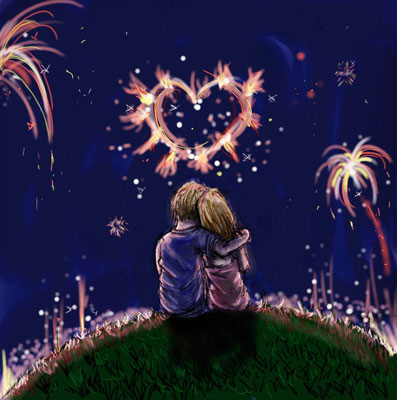 © Carissa G., Aberdeen, WA