Instructions On How To Change The World
May 2, 2018
These instructions serve the sole purpose of making the world a better place. Changing the world is not an easy thing to do; it's very tough. But if you have the necessary perseverance and follow all the instructions, you'll be surprised at the impact you will create on your own life and the lives of others.
Step 1: Sit in a place that brings you comfort. Relax, focus on the present, and let go of all the stress and tension in your body.
Step 2: Close your eyes. Breathe in very slowly, breathe out very slowly. Breathe in very slowly, breathe out very slowly.
Step 3: Tell yourself: I am about to embark on a dangerous adventure. I am going to change the world, and nothing will stop me.
Step 4: Open your eyes and look around you. Begin to notice all the little details in everything. If there's something you need to fix, fix it. If there's someone who needs help with something, help them. If someone is being bullied, don't just watch, stand up for them!
Step 5: When you walk down the hallways at school or anywhere else, politely smile at all the people that you pass, even if you don't know them. You know what they say: "A smile is worth a thousand words."
Step 6: If someone drops something, quickly bend down and pick it up for them. They'll appreciate it if you do.
 
Step 7: Respect your mother and father. Respecting them means loving them. Do everything they say to do, even if you don't agree with them. Just be thankful you have them and that they're for you. Don't forget to tell them how much you love them every day.
 
Step 8: Respect your siblings. Yes, they may be the most obnoxious human beings on Earth, but you know that you love them with all of your heart. So respect them. Hug them and tell them that you love them, and if they ever need anything, you'll be there for them.
 
Step 9: Love yourself. Have confidence in yourself. Admire the beauty that you have both inside and out. If no one else can see that beauty, they're blind. You are far more precious than all the diamonds in the world. Always remember that.
 
Step 10: When someone talks about you behind your back, don't let it get to you. You know who you are. Don't do anything that will reflect negative traits about you.
 
Step 11: Admit your mistakes. C'mon, we all make mistakes. There is not a person on this earth that has not made a single mistake. By admitting your mistakes, you are setting an example for everyone to follow. Not only that, but it also earns you respect, strengthens your leadership skills, and helps you learn from your mistakes. In the end, admitting your mistakes allows you to take responsibility for your life.
 
Step 12: Be KIND! If you see someone that is crying or that looks upset, don't be afraid to go up to them and ask them to talk to you about it. Offer emotional help when needed, and don't doubt to be the one person that talks to the lonely kids. And this is not cliche, but kindness really does go a long way.
 
Step 13: Stand up for what is right. If you don't stand up for what is right, then who ever will? Who will follow in your footsteps if you don't initiate the trail? A shepherd must emerge from this large crowd of sheep. You have to be the one that makes the difference and not just wait for someone else to begin.
 
Step 14: Think before you speak. Every time you think of saying something, think: "Should I say this? How will it affect the other people around me?"
Step 15: LOVE. DON"T BE A HATER! LOVE.LOVE.LOVE. That's what you have to do to make the world a better place. Once you start changing the world, the rest of the world will follow you. There will be a chain reaction that you will have begun. Only you have the power to start the change. A very wise man named Mahatma Gandhi once said, "Be the change you want to see in this world."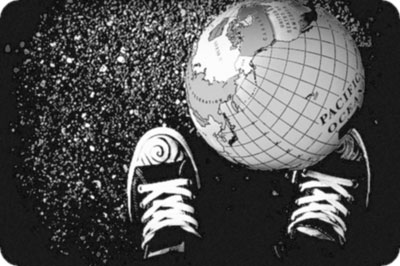 © Kailey E., Crownsville, MD