To Be Free
March 13, 2017
"What would it feel like?/ To be free of all burden?/ To leave?/ To walk away?/…" I wrote, sitting on my bed, wanting to walk away from my life. So badly. I was willing to leave my friends and family. I didn't want to leave them, but I wanted to be rid of everything else. To be free from the unnecessary stress this life was causing me. How could I? Was this probable or was this just a poem, just a dream?
    Even if I did, what would this new life hold for me? Would it be something different, something spectacular? Or would it be more disappointing than the current? I want to find out, but I'm scared. What if I lose it all and never gain it back? What if I get lost and never find my way back?
    Someone help me?!
    But no one can. I have to figure this out on my own, don't I? So, if I stay, it's on me. If I leave, it's on me. How do I know? Which decision to make? What if I don't make the right one?
    I got out of bed, went down to the kitchen, hugged my mom and went back to my room. I put on a jacket, and walked out.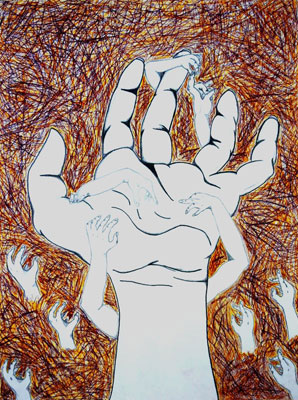 © Ariana R., New Orleans, LA