Magic in the Blue Shop
February 2, 2017
The Blue Shop was a humble music store that sat on the corner. Every day the weather was decent, and some days when it was not, the doors would be open and music would pour out. Mr. Blue was the owner of the Blue shop, (surprise, I know) and one day he set his teenage daughter to work the store. She had a pretty voice, clear as bells, and would sing anytime there was music to sing to. A young man wandered in, looking for a new E string for his guitar.
"Sure," She said, handing him the silver string before she rang up the purchase. He handed her the money, took the string, and began to restring his guitar. Having finished and tuned, he played a couple cords, and Miss Blue began to sing.
The doors were open, to let in the sweet petrichor scent. The sound poured out, it was a soft jazzy song, and the passer-by stopped to listen. Since, when people go in to get instruments repaired, they always play a song or two before they leave. Sometimes it's jazz, blues, bluegrass, or classic rock. Vintage Hollywood, ragtime. Calypso. You name it, it's been done.
Yesterday was jazz. The saxophonist who bent a key started with a few long notes. Then the clarinet with the same problem lent her wary notes, which grew stronger by the minute. The trombone who needed more slide grease nodded to the trumpet with the brand new valve oil, and the world stood still.
Today, it was bluegrass- a guy came in to grab a few picks for his mandolin and played a lively song. The violinist with a newly repaired bow joined in, while the counter-man grabbed a banjo from a stand and the girl from the street came in to sing. It was a beautiful sound, the music pouring through the door, and travelers stopping to listen.
Who know's what'll it be tomorrow? Blues, perhaps? Maybe a somebody will wander in, needing new mallats for his calypso drum and transport the whole of this town to a tropical island. I can't say for sure. But this I know- there's some kind of magic in The Blue Shop.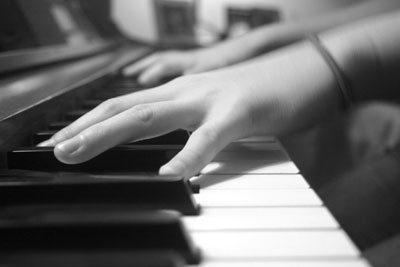 © Elizabeth S., Newton, MA