They Say
August 17, 2016
     They say there is a flower, the most precious species to live on this earth.
     They say, too, why it is so precious. I have heard tell of it and, if you lend me your ear, shall tell you of it, too. 
     It is a small flower, small enough to fit in the palm of your hand, leaves and all. It is delicate: for its leaves are woven of waning moonlight and spidersilk, and they are fringed and feathered finer than the finest yarrow leaves. The stems, of dreamstuff, are joined to no roots; for the flower floats as a lily-pad above the earth.
     The bloom, however, is far more precious, a wonder to behold. Neither rhapsodizing brilliant orchids nor velveteen damask roses may match it. It has but seven gently curving petals, which are teardrop-symmetrical. And each petal is a sunrise-beam, blushing in a thousand hues ruddy and gold, and together they surround the bursting sparks of the flower's sepals. These exude the most fabulous nectar; and its scent a scent of vanilla and cinnamon and half-melted butterscotch, a scent of loved ones and sunlit slow afternoons and dust motes settling in a beam of light.
     This flower, being rare, grows in rare places. You may spend a lifetime in search of it and never come near. It grows sometimes at the peaks of craggy mountains, above rippled lands with pooled sapphire lakes. It grows sometimes in deep, labyrinthine ravines, full of rushing glacier-green rivers that tangle themselves in ten thousand white rapids. It grows sometimes in spacious, lonely deserts of ancient sands under baked blue skies.
     It grows in all these places and more, but only in such places as I have described – the wild lands, the forgotten ones, where you are alone with humanity.
     I believe in this flower.
     Do you?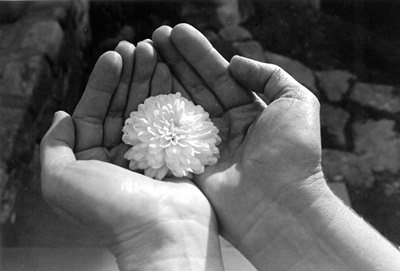 © Beth S., Marblehead, MA