The Ward
May 17, 2016
Emma walks into CH-5.  There is an abundance of nurses running around, like a chickens with their heads cut off. They have their hands full, checking vitals and trying to stop sick babies from crying. They are dressed in the usual faded green vomit coloured uniform. Emma searches for room number 55. Her eyes check each salmon door. Peeking into the curtain drawn rooms. Her  heart starts to race and her jittery hands start to shake uncontrollably. Her fingers curl into fists. Passing by the machines, the loud obnoxious beeps and buzzing. It all brings her back to being in emergency. Less than a week ago. That evening when she counted out  twenty white pills and poured them out into her clammy hand. Less than an hour later she was being hooked up to an IV and watching the fluids enter through the clear tube. An attempt to try and flush the toxicity out of her system. It worked. She's still here.
"WHERE THE F*** IS HER ROOM??," she raises her  small voice into some kind of growl.  Did i just say that out loud?  S***. Gotta learn to keep my cool.  Calm your s***, man.
"Hello, are you looking for someone?"  The bottle-blonde nurse asks.
"Yeah, courtney"  She replies.
"Okay. Courtney. Room 55. Follow me"  She says.
Emma starts to s follow the small bottle-blonde nurse to Court's room. She has a new roommate now. This time it's a six month old baby. The room seems smaller compared to the pictures she sent. Now that there's another bed in here, it's crammed with wheelchairs, another family and overheard conversations. Emma scuffs her shoes and walks over to court's side of the room, closest to the window. The view sure is something else. Buildings beyond buildings. There are tall, leafy,green trees in the mix of it all.
Court is sitting on her bed. In her grey sweats, purple fuzzy socks and her huge pink sweater that hides her shrinking body.  She'd never say that she's losing any weight. Day to day she lets me know just how many kgs she has gained or how many she thinks she has gained back. When they  both see each other, she smiles and it's the most brightest thing emma's  seen all day.
  Emma sits at the end of her bed sitting cross legged and  takes books out of her fake leather purse. She dumps them out into the pile of sharpies and markers. Courtney's  eyes  widen and begin to glow. They each carefully choose a page and slowly tear it out.
"So how do we do this anyway?" she asks
"Well, basically all you have to do is find words you like and create a poem out of them. Its pretty easy." Emma  says.
"Yeah, right...." Court rolls her eyes in disbelief.
The room is never completely  silent. She goes off on tangents. Her thoughts take shortcuts and go down curvy routes. She always ends up at the same place. But I listen. Emma's  eyes skim the page for unique phrases and words.  Circling and crossing out the words that she don't want to include. Court doesn't. The  poem that she comes up with  is a bunch of words that don't go together at all.
She gets distracted easily and opens her blue Hilroy notebook. Each page is marked with ink. She reads her poems aloud. Each word falls off the tip of her tongue. The pain adds a layer of sharpness to her soft voice. When each poem comes to an end. They both  sink into the quiet.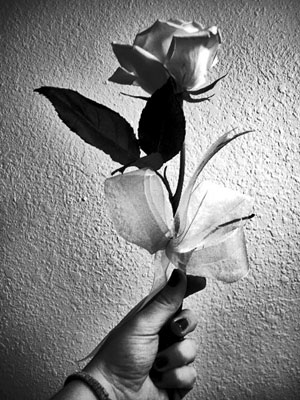 © Lauren R., Edmond, OK