And you are left alone again
March 19, 2016
     It is strange to watch the rain falling outside. Strange because the wind is gusting, driving the needled droplets in rippling sheets this way and back, folding over and revealing themselves against the blurred background again and again. She can almost hear the dull rush of the moving air and water, just like on the beach when you held a shell up to her ear, all smooth and polished and just as alive as anything, rumbling deeply from within its perfect spiraled chambers.
     Almost hear it but not quite because she is inside, under a cold white light. It is only behind the window that the atmosphere is alive. Here it is dry, dead, dead quiet.
     Breathe in.
     Breathe out.
     The fallen-leaf air crackles inside her lungs, shattering, and she strains with longing for the humid and soft air outside. Outside, outside, she remembers outside. It was when you held her hand and then you walked together, along an open road deep in the woods. The trees had been emerald and leaned in close over you, crooning in their tree-voices invisible songs.
     Another breath, another stab in her chest, another memory. You were holding her hand again, now your hands were covered in dough; you were kneading bread together, her mother's recipe she had said, bread to eat out of the oven when it was warm. Good bread.
     The pale light of the window is reflected in her eyes, shimmering slightly. Infinite fractal eyes, unknowable and distant as the Milky way with its gauzy veil stretched over the night sky. Still, every time you look deeper into her eyes, you find yourself finding a brightness, a new brightness each time, one so dear and near that you wonder how you have not realized it before. It was when you held her close to your heart, her hair soft, her arms around your shoulders, for you recognized each other as two beetles on a fig-leaf recognize each other. Even then. Even before then.
     Now you looked into her eyes.
     She takes another fallen-leaf breath, and her eyes lock onto yours. And all over again the brightness, a prismatic brightness, and her lips are gray and drawn like charcoal slashes across her face and do not look at all like the velvet tulips your remember. Yet you force yourself to smile and lean down and touch her lips with yours, all the while letting her white light fill you inside and out. She breathes out, her whisper carries half a phrase. "Can you -"     Can you, can you…
     Now the window is open.
     The rain is not so strange anymore, for she can hear it driven by the wind, and you see the brightness in her grow a little bit stronger, a fraction stronger, and you are consumed by her eyes. The living moist air gently pillows into the room, you follow it, step closer to her, but it still reaches her before you. You touch her wrist where it lies on the blanket.
     Now there is no one here but you and the rain.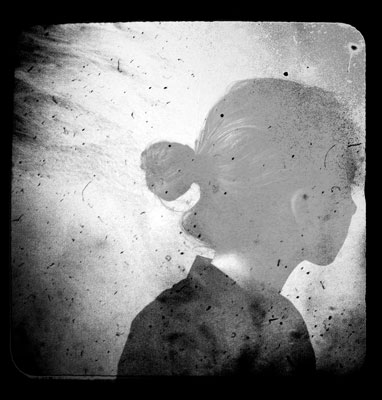 © Sarah M., Blairsville, PA