Berry Picking
March 9, 2016
I lay in bed with my covers drawn up to my chest and I think how I can vary my routine today but even this is part of my routine. Maybe I will make a pie for the new neighbors. I pull my covers off and slide out of bed. Placing my feet in my slippers, I waddle out to the kitchen in the hope that my coffee machine has started making my 7:00am brew. It has. I reach into my coffee mug cupboard and look for my favorite mug: a plain and simple white mug with only one significant image. A duck, like a rubber duck that you put in your bathtub - like one of the many rubber ducks that sit along the edge of my bath awaiting my grandchildren to come visit and play with them.
I put my mug under the machine and press the second biggest button on the right. Soon enough, I have a full cup of steaming black coffee. Perfect. I sit down at the kitchen table that faces a large plane of glass overlooking my small garden. A lonely tree stands in the center of the grass with an empty swing hanging from one of its bows. My grandchildren love that swing. I can even see my little Zoë swinging on it now. The sun on her face, her eyes squinting and her smile so wide it barely fits on her face. My daughter, Emily, pushes her and with every push Zoë laughs.
My shaky hands lift my mug to lips and I take a sip from the bitter blackness inside my cup, which brings me back to the present. As I set my cup back down, I look at my hands and question if they could make a pie. I see the wrinkles and the scars, the bent nails and the speckled skin. But only one of these things stands out to me: the scars… scars from berry picking, scars from cooking my first meal, and scars from growing up.
When I was younger, I was a good student, I was a good musician, and I was a good athlete. My hands held pens and violins and tennis rackets. They also held a wicker basket and often reached into prickly bramble bushes.
I was born into a good family. My mother was an excellent cook and teacher, and my father was a gentle giant and the best baker in the whole of Marion. He taught me to make pies. I remember him making a pie every Sunday evening. I would sit in my room doing homework and at five o'clock I would smell the most mouthwatering smell coming from the kitchen and when the pie had cooled, he would always call: "Sammy, come taste this!" and I would run to the kitchen to taste the pie. My favorite was raspberry and blackberry pie. The berries were picked from our garden.
One typical Sunday, I went out with my brother to pick berries. We collected a huge basketful and triumphantly brought it to the kitchen. I couldn't wait for the berries to be made into a pie. But at five o'clock I didn't smell a pie. At ten past, I still smelt nothing. I peered into the kitchen and saw my mother sitting at the table with a police officer's hand resting on her shoulder. My brother sat opposite, his face as white as the moon. He saw me. "Sammy," he croaked. Tears welled up in my eyes as I thought about what this could possibly mean. I sat down on the floor hugging my knees. Father always made sure that he was home to make the pie but he was not home… My brother sat down on the floor and cradled me in his arms while I cried.
The sun is now high in the sky and my coffee is cold. I leave my coffee on the table and go out into the garden. I pick up a wicker basket that always sits on the porch and walk over to my bramble bush to harvest some berries.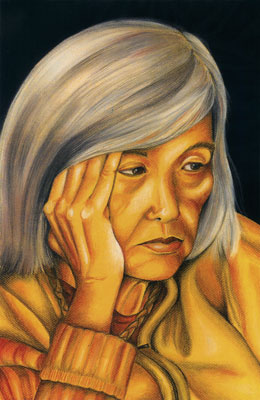 © Kaitlin C., Forest Hills, NY