The Coldness of a Stone
July 18, 2015
She brushes her fingers across the stone.
Cold.
It seeps through her hand, shooting straight to her heart.
Wet.
Her soft lips taste the salt of the tears that fall silently down her pale skin as she traces the name carved there
Final.
"Set in stone" means so much more to her now.
Weak.
She must be strong. Must be brave. Must be everything she never was before.
The past can't get to her, the memories won't control her—but as the sun sinks lower, sending its rays of soft golden light to illuminate the simple red flower leaning delicately against the fresh mound of earth, her face crumbles.
She will be strong, but the past's grip on her is too tight for the present.
She allows herself to sink lower.
Down towards that raised bit of earth.
Down towards the bottom of her heart.
Towards the deepest feelings that only show themselves when what they feel for is suddenly gone.
Towards that silent, unmoving wall of invisible force known only by the ones it crushes.
Towards the coldness of the stone.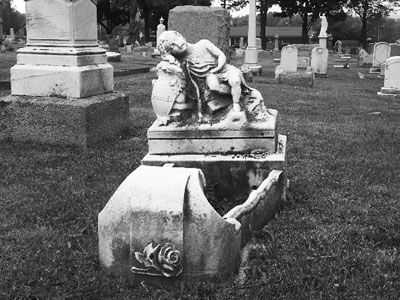 © Christina B., Weedville, PA