Emails
May 23, 2015
May 8, 2011
     Dear Timothy,

     Hi! It's Amy.
     It's been a while since I wrote you. Sorry about that. You know how I am with my habits, keeping them anyways.
     Graduation is coming up, and I know you won't be able to make it, but I'll be sure to take LOTS of pictures! I picked out this pretty dress, it's a bit like mom's, you know? It flows and everything, just like hers. I assume you couldn't send her dress to me, but that's ok. You can't do much anymore, and that's ok too.
     Anyways, I was going to bake a cake for my neighbor (she's having a baby shower) and I was wondering if you could send up that recipe you used to make? I think it was a chocolate forrest cake, that's what you called it, right? I'd appreciate it so much! I don't think I'll be able to make it as well as you could, but I'd love to try.
     Maybe you can come up to visit this summer? Then you'd be able to teach me all about making that cake, right?
     I love and miss you!
-Your sister

June 12, 2011
     Dear Timothy,

     It's Amy!
     Graduation was great! Now I'm just off to find a good place to use that music degree, right? I remember when I tried to teach you piano, but you said it sounded sad. I know it does, but it can be really up beat!
     That doesn't really matter I guess, and you didn't send up that recipe. I just looked it up online, my neighbor really liked it. I forgive you though, I honestly didn't think that you'd send it up.
So when do you plan on emailing me? Is your computer working? I was thinking I'd come up to see you, but I can't really leave. Jeremy, my boss, wouldn't let me leave this damn coffee shop if I said I'd pay him a million dollars. Just thoughts though.
     I have to get back to work, but I wanted to send in a message (if you even read them anymore.)
-Your sister

August 23, 2011
     Dear Timothy,
     Amy again. Not much has happened, I found an apartment. It has two bedrooms so if you wanted to stay….
     Mom and Dad's anniversary is coming up, did you want to go visit Dad? You know how he gets around this time, they said they wouldn't be releasing him from prison for another year or two, but I still want to visit him. I wonder if they'll let me play piano like they did last year! I sent you pictures from then too, if you got them.
     Write me ok? SOON!
-Your Sister
September 3, 2011
     Timothy,
     Remember when you used to call me "Ams" or when we'd go out to that old swing set on Mr. Lancaster's yard and stay out for hours? And then dad would come running to get us because he said that Mr. Lancaster would be home soon, and that we'd get in trouble if we stayed out to long.
     Then we'd go into the house and play with Dandelion and she'd bark at Mr. Lancaster's car as he drove in, and mom would be on the couch yelling at her to shut up.
     Come home.
-Amy
March 18, 2012
     Timothy,
     What's been happening?
     Well, you haven't answered any of my emails, and I've been very busy. I run that little coffee shop now, and the place is much better than it used to be! I met this guy named David, he's amazing. I think you'd like him, if you came to visit.
     I actually live in a house now! Who would have guessed? It's amazing, a bit like our old one. I'm even thinking of getting a dog, you know? How about a german shepherd? Would that be enough to get you up here?
     I'm writing my own songs now, too. The piano can be bit sad. I remember when you used to play it with me, back then it wasn't so dreary.
     Where are you?

July 26, 2012
     Hey, mail me or something alright? Dad is supposed to get out in a few months, and he wants you to be there.
     This is Amy, your sister.
November 14, 2012

Tim,
     Come up for Christmas?
-Amy
February 27, 2013

     I'm engaged. Will you come to the wedding? Call me.
October 17, 2017
     Timothy,
     Things are going good. I married a few years ago, and you have two nieces. They look a bit like you, but you looked a bit like me, didn't you?
     They say that when someone close to you passes away, it's good to get out everything you ever wanted to say to them or ever wanted them to see or read or hear.
     I tried it.
     Damn, I miss you Timothy. You'll never read this, but if you were still alive I'd want you to know I'm sorry. If I hadn't made you guys wait to go to the store, if I'd have just gotten in the car… You'd both be here, wouldn't you? You'd be reading, replying to my messages.
     I love you Tim.
Goodbye.

-Amelia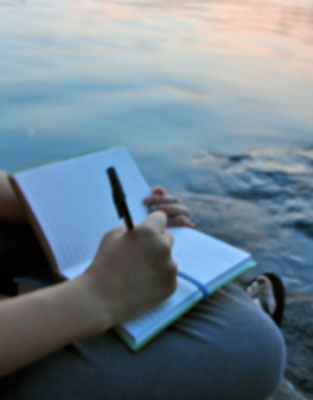 © Grace K., Port Washington, NY