First Kiss
May 26, 2015
It wasn't meant to be like that. I didn't want it to happen that way. It was supposed to be special. I was supposed to feel something, anything but that feeling that now eats away at my insides like a diseased parasite. I wanted to feel the presence of distant fireworks, to feel the pressure from the air as the doves took off, to feel my heart jump in a tempered rhythm as I closed my eyes in the lean of the moment. It wasn't meant to be like the way his lips bruised mine as if I were something to devour and to conquer, without even paying attention to what he was taking from me. It wasn't supposed to feel rushed and unholy as if I were doing something wrong.
But it happened that way. I still remember his rough hands with the calluses on the palms, the way his face was gruff with small salt and pepper colored spikes, and the way his breath smelled like mint with a distant scent of alcohol. I remember the heat of his body as he inched closer, the predator closing in on the prey, and I remember his faint whispers that echoed like after thoughts in my mind: "You're so beautiful, baby girl, so juvenile, so young, innocent", "Don't tell, okay? This'll be our little secret", and "So beautiful, it's so right…"
He repeated the words like mantras, as if he were trying to convince an invisible audience that what he was doing was palpable in the definitions of "okay". That or he was trying to convince himself of these words. But as his lips attacked at the innocence I clung to, I began to see that he was doing a good job at convincing himself.
Regardless, my first kiss wasn't really mine. It was stolen by the mouth of the predator. I was the baby calf who unwillingly stumbled upon the animal higher up on the food chain. It was unfair, the way he took what I kept so dear to me. The way he played the game, it was wrong. He cheated, like the people who count cards, and those who use the sleight of hand. He took something from me the way that I never had designed. And as I touched my bruised lips, I wondered: what did he get from that?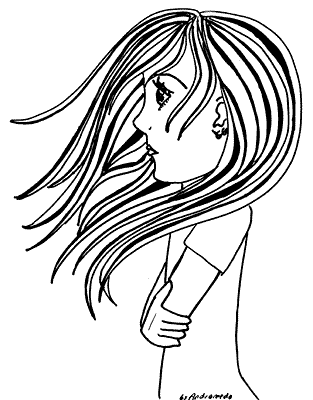 © Andromeda M., Milford, CT