Carrying Your Love With Me
April 2, 2015
She carried it everywhere: the market, the bank, even the hospital the day I was born. All through my childhood, Mother clung to that book. Her now wrinkled fingers turned the pages countless times over and over as she rocked back and forth, back and forth, back and forth. Those pages were now yellowed with age, dirt, and sweat; the cover was faded from fingertips stroking the spine and tracing letters.
She got it as a wedding present from Father. She told me often how they met in the library, fingers brushing on the spine of Farewell, My Lovely by Raymond Chandler. It made her sad but happy to speak about Father. I never knew him, but Mother says I have his eyes and nose.
Now she is handing the book to me, a soft, sweet smile on her lips as she tells me, "It's time for me to be with your father. In this, there are two letters: one from me and another from him. We loved you. As long as you have this, we'll be with you always."
She sighs one last sigh, and the light in her eyes dims. A single tear drops onto the cover of the book now clenched in my hands.
I open the book. Scrawled on the inside cover, a letter is written in unfamiliar script. "Father," I whisper, brushing my fingers over the fading ink.
"Lucy,

Today, you made me the luckiest man alive. Do you remember the day we met? It sticks in my mind as vividly as the yellow sundress you wore. Whenever we're apart, I close my eyes and the quiet library surrounds me again. The summer heat forced everyone to find shelter in the cool indoors. You and your sisters sat together at one of the tables, each reading quietly.
When you finished your book, you left it on the table top and went to find a new one. Our hands brushed on the spine of this book. Not this exact one, but one of the same title. Your beautiful blue eyes met mine and I fell in love with you immediately.
Today, seeing you in that white gown took my breath away. Your beauty surpasses anything I've ever seen. I know you will raise our child well while I am away, and I know it makes you sad to see me go. I got called for the draft so I have to serve my time."
He skips a few lines before the letter continues:
"I want you to know that no matter what happens, I love you and I'm always with you if you keep this with you.
God blessed me with you. I love you.
-Frank"
A picture pokes out around the corners of a page. When I pull it out, I see him. He is dressed in his army uniform, smiling and handsome. I touch his nose, then mine. "It's true," I laugh through the tears. "The exact same."
Rising, I go to the phone to ring the hospital. Mother's still form sits in her rocking chair, forever at peace. I watch as the emergency responders wheel her out of the house. My heart is heavy with loss, but I look down at the book in my hands and remember: they're always with me so long as I have this book.
Sitting on the porch swing, I open the back cover to Mother's letter.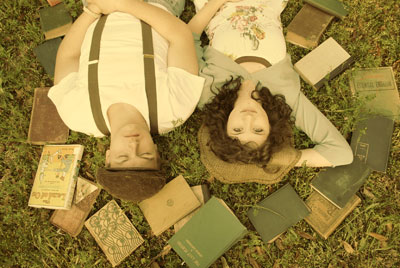 © Gabrielle A., Pensacola, FL