Snow
January 4, 2009
The harsh wind hisses and rattles the window frightening my siblings beside me. I huddle closer to my younger brother and sister as the wind continues to snap. We begin to shiver under the many layers of clothing. Sighing as I image our first snow fall. It is already near the end of January, and we have not had a single snow day. If only we can have a small break off school! Smiling, I imagine the white powder. Still in thought, I can hear mom in the other room slamming pots around. From the kitchen, I can smell vanilla, hot chocolate, and… and… is that snow ice cream?!

I leap up knocking my siblings to the floor in a huff. Zigzagging through the many blankets strewn across the floor, I rush into the kitchen to find mom wrestling with the appliances.

She looks up as I walk into the room, "Oh, I was going to surprise you!"

Without responding I grab my coat and scurry to the door. Squeaking the door open I glimpse the amazing sight. Snow crystals glitter in the moonlight, looking like thousands of little stars. All the trees sparkle with the fantastic white dust. I breathe in the fresh scent of winter air, and then I lift my head toward the sky allowing the icy snow to melt on my face.

Dashing out the door was my rosy cheeked sister. Snow clouds at her feet as she ran creating the image of pixie-dust trailing a fairy. Soon after, my brother trails after her, only to plunge face first into the feathery snow. As he lifts his head, I glimpse a melting Santa beard, and collapse into a fit of giggles. In response, he throws a snowball at my face. Laughing harder, I begin to realize how freezing I am. Only Edward Cullen would enjoy this weather!

Shielding my face from the flying snowballs, I sprint back inside. Exhaling loudly, I slam the door on the charging wind. Plopping myself in a chair, I hold my coco close to my frozen face. Inhaling the chocolaty scent, I slap on my 'Luna Lovegood' smile, and down the whole mug. Outside, the only sound I can hear, besides the racing wind, is the laughter of joyous children, and now I know, this is way better than a simple snow day.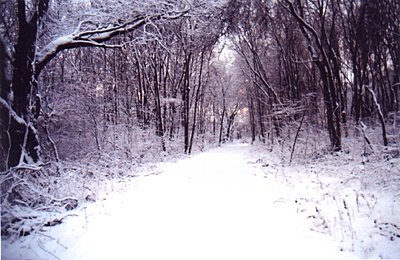 © Thomas W., Scituate, MA