Driving Fast
MAG
December 31, 2008
It was 4:15 p.m., and we were going fast – 70 in a 45 zone.

"I know the roads … don't slow down," I said. There was a red light ahead. So he slowed down.

The car came to complete stop, the first in a long time. We haven't wanted to stop, class being over for the week, but it's the law to stop when the light turns red, so when it turned red, we stopped. We always drove on the roads with no lights or people so we could go fast. If we went too slow, we'd have time to think, and that's not what we were supposed to do.

"Which way?" he asked. He was a heavy-set boy with blond hair that went to his shoulders. He was my age and went by Steve, and he was a friend.

"Take a right, then a left," I said.

The roads were wet with the rain, but it wasn't raining now. The ground was blue because the clouds stopped the sun, which would be orangish-blue by now, but only small stripes of yellow poked through the purple clouds. There was a cold wind, but inside the car it remained warm. We opened the windows from time to time because cold wind was new to us. We were used to warm things. We didn't leave the windows open too long because it made one side of our body want cold as well and it made the cold side want warm and it made everything mixed up, so we'd close them.

I noticed that the radio was playing very loud, and it made the air in the car seem gray with noise. I didn't particularly like the song either.

"I don't like this song," I said, but I didn't turn my head.

"I'm used to it," he said.

I didn't motion to change it. If he had said that he didn't like it, then I would have changed it. It really hurt my head. Trying to forget always hurt, and I'd been trying since class got out.

I was happy when class got out because I don't like the chairs we sit in, but I felt alone now. I thought about questions to ask my teachers in the morning. They always like that.

I don't particularly like it when people ask me questions but I can see why teachers like it, because if you know things you can tell others about them and you have something that they don't, and that usually makes people feel warm and orange with security.

I was feeling colder, despite the music. The damn music was getting louder.

"I don't like the song. Turn it down, at least."

"Why are you asking me? Just do it."

I didn't know why I didn't just turn it down myself, and now I felt dumb. I felt the pressure in the back and top of my mouth when you want to say sorry but you can't. I couldn't say it because I was dumb and saying sorry wouldn't make me less dumb. I wished I was in class. Then I could ask the teacher why I didn't turn down the music.

I still hadn't turned it down, and the air inside the car was getting yellow. It was even louder now.

"Turn it down, please." I said it like I was about to cry, and I almost was. If he hadn't turned it down, I probably would have. But he did. He looked at me weird, and I knew that he knew that I would have cried unless he turned it down.

"Pull the car over." It was almost a command, and he did it immediately. I felt glad he was doing things like that.

I sat in the seat without moving much. I grabbed my head and realized how hot I was. It was too warm in the car, and I felt like the music was still playing. The air was thick and orange, and I fumbled with my seat belt to get out. We were on a hill that looked down to the houses where the rich people live. The hills around the big houses were gray but the clouds turned them bluish. The wind was blue too and it swept the orange off me. I stood and let the wind clean every part of my body. I didn't get back into the car for a long time.

I was thinking while I stood out there, out in the open. I asked myself where we were going. I didn't know but I also knew that if I asked my teacher, she wouldn't know either. I was stuck. We had been driving for almost an hour, but neither of us knew where we were going, and I got angry. It was just dumb. I was dumb for thinking about it, and for not turning the volume down, and now the car and the volume and the orange got me all worked up, and I was thinking too much. I'm not supposed to think. That's why we go fast, so we don't have time to think.

I think the wind made me think. I think it was the cold that made me think that my teacher wouldn't know the answer to my questions. I usually don't think like that because I don't know the answers, but now I had my own answer, and it made me feel cold and blue and fresh, and it was new, but I liked it, and it wasn't like I imagined it to be. I got back into the car and said, "It's cold. Let's go."

We went, but not too fast. I was still thinking. I thought I wanted to go to class tomorrow, but I wasn't going to ask any more questions.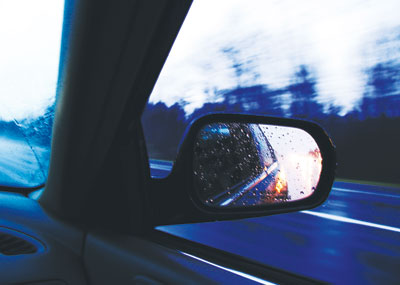 © Raine E., New York, NY