Father's Apology
October 18, 2013
I settled back into reality with my heart pounding from a bittersweet ecstasy, twenty minutes after the ambulance drove off down the street. You were long gone by now and I made my way into the house steadily after, toying with my watch desolately. The house stood emotively vacant, but resonating through its halls were memories much coveted. I gazed to where I would conventionally sit in the living room, envisioning the times you had sat with me in my lap. My arms embraced your small form as you slept, holding you close to me; my mind hoping I could freeze all the exquisite moments like it.
I rested in my chair and took in the indescribable, thought provoking, annihilating phenomena that raged through every cell of me; letting it devour me until I'm numb. My eyes glazed over, my heart hammered faster than it had ever before, as I woke from the dream-like occurrence. A sense of unanticipated tranquility washed over me as the living room stood in an airy ambiance. However, the serenity felt irking and I sat apprehensively in the middle of it.
It felt surreal to me; like I was in a place, I did not belong in and was about to be chased out. I could not move, much less breathe; as if all the air had escaped me. Feeling secluded and perplexed, betrayed and forlorn, all I could do then was let tears fill my eyes; and they fell as steadily as the rain outside. My little girl… what has happened to my little girl? I could not understand why you would do this, honey. You have such a wonderful future ahead of you. So why did you do it?
Leaving the living room and walking the stairs to your room, I toured the vacant hallway and eyed at the hallow walls. Decorated, still, with yours and your brother's artwork from childhood, I could not help but let my heart break as I stared astonished at the words you lived by then.
"Forever Daddy's Little Girl."
Drawn out in purple crayon, the words shot daggers at my heart. You were so young then, so naïve to the world around you still, and you had no idea what would happen in months to come. Yet, then, you knew about our anticipated relationship. That I was your father and you were always to be mi princesa; and I was to be there with you every time you cried.
How could I not have known? Oh, la inocencia sangrado de uno de los milagros más maravillosos de Dios que me ha dado! I am sorry, mija. I am sorry.
I had promised you the world.
I had promised you so much but never had followed through with the majority of them. My one and only baby girl, the greatest blessing God has given me, my most cherished gift, my beautiful, miraculously forgiving, angel, I am honestly sorry.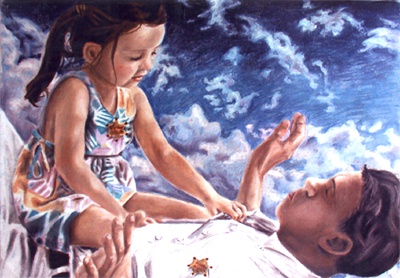 © Meg S., Andover, MA