The Kid
May 22, 2013
Look up at that wall of quotes kid, pick one to fuel the fire in your young heart. Everyone's been where you're at now and yet you're feeling useless and doubting everything that you are. Writing in a notebook when you're supposed to be studying for that important test tomorrow. You'll scramble in the morning, won't you, battling the sleep that tries to bog you down.
What's the problem? Hate your peers, your teachers and all the family that doesn't call and never really did? Then you've got it, the job is yours. You can be a writer, just step inside and we'll show you around. Soon enough, your every thought is going to be poured onto paper.
You'll feel scared at first, afraid to show your true feelings, you're a fish out of water. You've always kept a straight face, it's a clean slate, nothing gets to you, right? Nah, you're all jelly inside, aren't you? You're screaming to be heard while everyone else only hears a peep, a sigh. Your heart is like everyone else's except that you were born with it broken and everything hurts. You'll go on, you'll carry on like all those other kids but you're different. You see the truth in the world that other people don't. It just kills you doesn't it? You can see other people too, you're a natural X-ray and hate it.
You even lack that fire that most people live off of.
That's why we need you kid, you're not that different, you're just like us. You can join us, the ranks of the elite, the writers of the world. Sure, it's going to be a hard life for you and you might turn to some sort of destructive addiction but you'll enlighten the future generations! It'll pay off in the end, we promise. You'll love it, absolutely love it once you get over the fact that you're bound for failure in the first billion words and then it just gets harder. But once you get past that, you'll find your truth, the thing that you search for in libraries and empty notebooks. You'll be great kid, I can see it in the emptiness of your eyes.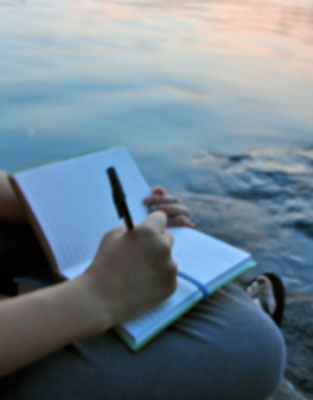 © Grace K., Port Washington, NY