The Donation
October 5, 2012
The Donation


Darkness and hunger. Addiction and worship. No one knows what it's really like. I have seen from afar, but I am filling in the blanks trying to answer the lingering questions in my mind. Homeless and invisible. Two words most people do not realize go together like peanut butter and jelly.

I am driving down the busy streets of downtown, shooting forward in my seat every time my dad slams on the breaks. My seat belt jerks my body backwards and I curse under my breath. Downtown has always scared me because I have heard… things. My eyes look from left to right, just to make sure there is no one outside our car. Everywhere you go there is always someone telling you to be careful in the dank downtown streets, like you might catch a disease? Well, let's just I am one of those people that listen.

We head down Hastings St., barely moving an inch in the last ten minutes. I sigh loudly, feeling anxious and on edge. I have never been down here for this long and it's starting to frighten me. Graffiti, garbage and the tattered sleeping bags litter the sidewalk. Storefronts have bars on the windows or are crying for someone to inhabit them. Homeless people with missing teeth and stringy hair stumble down the street with a shopping cart and a bottle of alcohol. I know I live a pretty sheltered lifestyle, but this isn't normal.

Then I see her, a girl about twelve years old wearing ratty torn clothes run and hide in the nearest alley. My eyes bulged and I could not believe that little girl had to live like this. I, then see her mother close behind with a bulging belly. My heart wants to reach out to them, telling them it will be alright. But, I don't know that for sure because they might not even know where their next meal is coming from. I hope they make it to a shelter safe and sound for the night.

Traffic finally starts moving and I breathe a sigh of relief. As we are gliding down the busy streets I cannot get the woman and girl out of my head. My heart hearts for them, I feel almost guilty for being able to live my life so freely. The money in my purse burns a hole in my wallet. I sit in silence and my dad looks over at me, his brow furrowing.

"Honey, are you ok? You haven't said a word. I thought you would be more excited to go shopping?" her father asked curiously.

"I don't know, I am just not in the mood right now." I said sadly.

"What's on your mind?" he asked curiously.

"It doesn't matter anymore." I said exasperated.

We drive in silence the whole way to Metrotown and I look out the window when we pull into the parking lot. It was then that I saw them. They were crouched around the corner of an alley across from the mall. I opened the door and looked at the hundreds of people hustling about in the parking lot. Mothers dragging their young children across the parking lot, old people shuffling slowly talking about the weather and bratty teenagers thinking they have the right to stand in the middle of the parking lot. My dad is at the parking meter and I know I have to do this now. I run across the street until I am close enough to see the scratches that cover the little girl's forehead. She seems me and her eyes widen with terror and I quickly grab her wrist before she has the chance to bolt.

"Please don't scream. I want to help you." I said desperately.

"Why would you want to help me?!" she cries with tears brimming in her eyes.

The mother comes back quickly and freezes when she sees me standing there. The little girl stands in front of her mother trying to be strong, but I can smell the fear seeping from her bloodshot eyes. Before they can run away or say a word, I pull the cash out of my purse and hold it out to them, like a peace offering. I know, all 200 dollars of my shopping money gone, but I realized that I can earn more money and that a home and food is a luxury I can't survive without. This little girl staring at me with awe is stronger than me because of what she has had to go through for who know how long. The woman cries tears of joy and at first, does not take the money and support. I shake my head, smile and tell her that they deserve it. They both hug me and walk into the light with their heads high and no amount of shopping can make me feel the way I do now. I saved a life that was broken and helpless. I smile and walk back to the car where my dad looks at me with a smile so big, I feel invincible.

"I saw what you did over there." he said proudly.

"Yeah, when I saw them in the alley I just couldn't sit there knowing they would be sleeping out in the cold hungry." I said.

"I am so proud of you." he said.

"Dad, can we go to Stanley Park and go for a walk? I am not in the mood to shop." I asked.

"That sounds like a great idea."

Until today, I never knew what it looked like to be alone and starving, going through trash just to pull together a meal. The next time I complain about chores, homework or money, I will never forget the look in that little girls eyes; terror, starvation, hopelessness.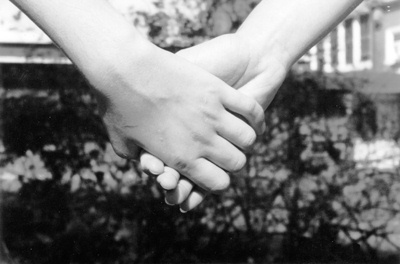 © Lauren G., Pompton Plains, NJ