Invisible
October 4, 2012
Invisible


I stand there, my eyes glued to the center of the hallway. I try to be nonchalant and play with my hair, but let's face it I am not exactly good at being "flirty". If anything, I am the opposite; awkward. My heart starts racing and my palms are slick with sweat. I hide my head behind my locker door. I chew on my lower lip and push my glasses slowly up my nose. I grab my books and turn around, trying to calm my rapid heart. I inhale and exhale a couple of times, probably boosting my rating on the weird scale.

I see him standing right there with his friends and I know I should take this opportunity. But something inside me glues my feet to the floor, making it impossible to move. My legs won't budge and I force myself to try and take a step. He is getting closer and he is going to walk right by my locker. I rehearse my lines in my head give myself a pep talk. "I am a strong, independent girl and I will go and talk to him!" I think to myself. My opportunity is here. The chance I have been waiting for since we locked eyes in Science for two seconds. Butterflies fill my stomach with warmth and anxiety. I would give anything to be held by those strong, safe arms and acknowledged by his amber eyes.

5, my life could change forever, 4, I would be noticed, 3, I would be popular, 2, I would have found a void to fill my aching heart, 1, I could be me.

I take a step towards him and flash my biggest Academy Award Winning smile and flip my hair. A breeze blows my hair and I am standing alone, eating his dust feeling tears brimming in my eyes.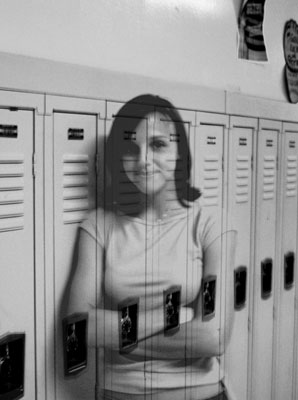 © Amy D., Troy, OH