Jared's Guardian Angel
September 15, 2012
Jared stared at the ceiling fan whizzing around and around above him. The monotonous beep, beep of the heart monitor was a known sound to Jared. He had been in St. Jude's Children's Hospital many times before. It wasn't news to him, but he just wanted to be with his friends, riding bikes, and playing ball. He didn't want to have this stupid disease called Hairy Cell Leukemia. It kept him in the hospital and from doing normal things an eleven-year-old boy would do. The disease was not only eating away at his cells, blood, and body, but his soul and spirit as well. Jared leaned down and put his forehead into the clasp of his hands.

Jared must have fallen asleep because when he awoke it had already been three hours. He heaved a breath and repeatedly shook his bald head, glinting in the light. Jared used to do this when he had a full head of brunette, long, curly hair. As he looked up, his nurse, Nurse Bree, walked in.

"How are you doing today Jared?"She inquired.

"Same as always," Jared mumbled gloomily. Nurse Bree replaced Jared's IV and gave him his daily dose of fluids to keep him from dehydration.

"Nurse Bree," Jared asked, "Do you think I'll get better?" Nurse Bree looked over at him, put her hands together, and dropped her head, looking at her white nurse's tennis shoes, as if in thought. She sat on the doctor's rolling chair and requested to him, "Would you like to hear a story about a dog?" Jared had always been interested in animals and was bored, so he consented. Nurse Bree started her story then. She explained how Honey, her Shetland sheepdog, had broken her leg but it was now healed. Jared liked the story, but she hadn't answered his question.

"Nurse Bree," Jared implied, "You still haven't answered my question." Nurse Bree looked at Jared and pointed her hands toward him, "All I'm saying is that you could pull through, okay?" Jared nodded. Nurse Bree finished his IV and walked out, thinking of a plan that might actually work, to save him.

Jared woke an early bird the next morning and saw that it was only 6:30 a.m. He rolled over wincing in pain, and closed his eyes. Awake. Jared couldn't fall asleep at all. When Jared was just on the brink of a deep sleep, he heard a loud, shrieking bark of a dog. Jared let out a sigh and thought to himself, I'll never fall asleep.

"How are you doing this morning?" Nurse Bree cheerfully walked in with a…dog?!

"This is my dog, Honey that I was telling you about, Jared!"

Jared stared at the dog's right, front leg looking for the break. But it wasn't there! Wait a minute, he thought, man I forgot it had healed! Honey jumped on her back two legs and put her front paws on Jared's bed.

"I'll leave you two to talk to each other." At that Nurse Bree left, happy with herself. She smiled all the way down the corridor.

The next fortnight Nurse Bree kept bringing Honey in to see Jared. Jared always looked forward to Honey's visits. Then one day Jared got his test results back. He couldn't believe his eyes. Thinking it would never happen, but it did. Jared stared at the paper and started laughing. The melancholy feeling left him. He screamed in delight. As Honey jumped on Jared's bed beside Jared, Jared petted her golden, brown, white, black, and silky coat. But then the question struck him. How'd it happen?

Two years later as Jared looks back, he remembers the many times he would hate going to the hospital. Now he is able to do what he wasn't able to do two years earlier. As he lies down he thinks about how a miracle had come. Jared knows now that Honey had given him the strength and faith to accomplish any obstacle that came in his way.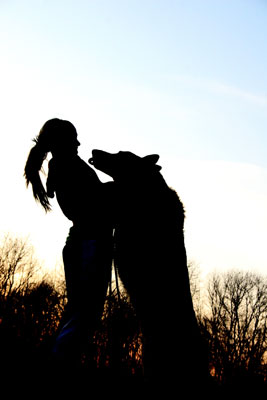 © Brittany U., Terra Alta, WV