How You Look At It
September 12, 2012
I was eleven when Billy Johnson threw a water balloon. It landed in a rather unfortunate location, or so it seemed at the time. They called me The Wetter for the rest of the year. For a while I guess I let it get to me. Maybe I moped a bit. Maybe I considered complaining about bullies to the principal. Maybe I played the victim.

But then I realized something. In my class, we had Billy and James and Clare and Tina. Joe and John and Jane. But I was the only Wetter. As time wore on and I realized the tag was not going away, I embraced it. When kids would sneer at me, forked tongues calling out cruel words, I would bow, star in my own show. Where I was the jester, the clown, the awkward hero the girl falls in love with at the end.

They found this strange, and I lost the few friends a quiet, quirky boy like me had managed to accumulate. But it didn't seem to matter. When eleven faded into twelve and middle school became hell for Billy and Tina and Joe, for me, it simply could not get any worse. I would laugh in the hallway for no reason, speak with accents and different languages and impediments. I went from 'the boy who peed himself' to 'the strange one'.

"Is he high?" they would ask by the time high school rolled around. Teachers would have their pets follow me, snitches would ambush me in dark walkways or bathrooms, waiting to see my joint or my needle or my pills. They called me the weirdo. The freak. The druggie.

I guess I was high, in a way. High on life. High on the idea that a normal kid like me could do a few things and threaten the whole fabric of his classmates' minds. They could not understand me. They would not understand me. I became enthralled with the idea of surprising people, keeping life interesting, forcing them to expect the unexpected.

I'm a grown man now. Married. Found a wife almost as weird as me. We stand on either side of a crowded room, holding bananas to our ears and having private conversations, looking cross-eyed at any we accuse of eavesdropping. We wear wigs and mustaches and hats and sunglasses. We blast children's music and Lady Gaga, screaming from tabletops that we were born this way.

I don't know about her, but I know I sure wasn't. When I was born, I was just another white city kid with brown hair, brown eyes, and scrawny arms. A kid that would do anything to soothe the sting of bullying. A kid with a tendancy to take everything too far, transforming a wet pants misunderstanding into a lifestyle of absurdity.

And though I was not born this way, I like what I have become. So Billy, with the water balloon? I owe you one.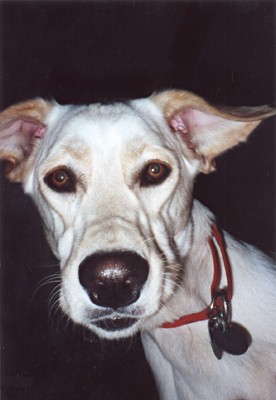 © Violet B., Phoenix, AZ