On a Bench in the Park
September 5, 2012
I met this woman on a park bench once on my way home from the drugstore. I think her name was Sam or Karen or something like that. It was rather cold out and she was face down and drunk as she could be so I asked her if she needed some help.

"Help? Me? Naaaah!" she replied, slurring her words. "If anyone needs help, sweetie, it's you. Sit down! Imma tell you a story!" She grabbed me by my shoulders pulled me to the bench.

"Once upon a time, many years ago, in, like, 2008..."

As we sat there in the cold, Sam/Karen told me the story of how she had gone from being an honor graduate in high school to sleeping on a park bench. I could only sit in awe. And it wasn't even that I felt bad for her. I just wanted her to keep telling it. I was amazed at the way it made me forget my life for a little while. By the time she finished, we were both in tears. From joy or sadness, I'll never know. We sat in silence for a few minutes until I remembered I had to get the milk home to my mother.

I gave Sam/Karen a couple of dollars and thanked her for the story. As walked away, I had a thought and turned back around.

"Hey, do you think you'll ever 'clean up'?" I asked sort of shrugging. She thought for a second.

"No. I think I'm pretty happy just the way I am."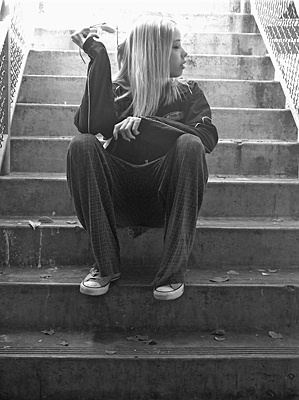 © James M, Walnut Creek, CA