DoodleBug
June 19, 2012
I rolled over and opened my eyes, only to see out the window that it was still night time, and that the whole house was most likely asleep. I lay on my back and turned my head to look around the room. Well, a garage. It may have been spacious, but it was a garage nonetheless. I sometimes resented it, because we had five bedrooms, and two bathrooms, all in a two story house. I understand why I'm here, but I still sometimes resent it. I can fill you in on the room seating if you want? Okay then... I'll start with the most important, down to the least.
Melissa, AKA my mother. From the front view of the house, her room was the top right hand one. I really wished that was my room. It had a good window and a balcony. Awesome, right? Anyways, so, after that, it is Rachael and Chris. They are the really good friends my mum met a while back, so we all decided that we should live together. A really good decision, in my opinion. So, they live in the Top left hand room, and they have a nice room, but I still prefer my mums.
Sorry, I keep straying from the topic. So, after that, is Stephanie, my irritatingly annoying sister who acts like a spoilt brat, but she isn't because she wasn't raised with much, like me. So, her room resides on the left side, beside Rae and Chris's. Smaller, but still comfortable.
Next, comes Luella. She is just so darn cute, I love her to bits. I like to think of her as the little sister I never had. She has a bunk bed in her room, which is the smallest and then again on the left hand side, next to Stephanie's. She often runs into everyone else's rooms, mostly into my mum's though. Why wouldn't she? Mum's room is just so darn comfortable. Sorry, off the topic again. Oh, hold on, I never said who Lue is. Well, I'm sure you've guessed by now, but she is Chris and Rae's daughter. They aren't married, but they live together, because they are together. It's confusing, but I don't ask about the arrangements, seeing as it's none of my business.
Last but not least (as if) is of course, Darcy. Oh, wait, that happens to be me. All of the rooms upstairs have just been taken, as you have seen. So, the only one left for me now, happens to be the garage. Yay. I know that I really shouldn't be complaining. I have it good compared to a lot of other children. I just can't help but feel that I'm always excluded. I have no doubts that I'm the more boring one in the family. I really have no doubts whatsoever. But, couldn't they just act, for my sake, as if I wasn't as boring as I am? Isn't that what a family's supposed to do anyway? Whatever, but, all I can think right now is that I really want my mum's room, because I go in there all the time. I was just wondering where she would sleep, my mum, that is, when both her and Rachael walked in.
I could tell as soon as they passed the threshold that something was wrong. I looked at their faces, dim in the limited lighting, and could see concern, sympathy, regret, and also sadness mixed into both their facial expressions. It was at that exact point that I knew that mum was leaving. I sometimes knew what was going on with my mother a split second or so before I was told. It was uncanny. But I watched, silent, as they came over to my bed and Mum sat down on the edge.
"Hello, Doodlebug." I always hated that name, ever since I found out that it was just another name for a stinkbug. Now, however, I really didn't care. "Look, I know it's late, but I've come to say goodbye. I just have to go away for a little bit." I looked into her face and saw sadness. I hugged her and said goodbye. I knew for a fact that she wouldn't leave if she felt the need to. I knew that I would see her again, and soon. So there was no point in getting emotional. My mum said nothing as she hugged me back, eventually letting me go and leaving. Before Rachael could follow, I asked a pointless question.
"So where is she going?" Rae looked at me with something that could be taken for either sympathy or pity. I like to think it was sympathy.
"I'll fill you guys in tomorrow morning. It was at that point also that I knew she was going to the hospital as well. I knew that her mental health was sometimes sketchy, so I assumed it was to do with that.
I couldn't help but to take pity on Stephanie. I heard them upstairs as Stephanie made a scene, asking what was going on, where was she going, why was she leaving. There was a lot of crying and carrying on as well. I know I may sound heartless, and I apologise for that, but also I don't see how she can make such a fuss about this, and how she always seems unable to think beyond the now and look at the future. With her attitude, she always sees things as unfair and so on. It's in her nature. But, I do give her sympathy, so I'm not as heartless as I may seem.
Don't get me wrong, I mean, this whole situation has got me feeling very unhappy, it's just that there is no point in making a scene over something temporary.
For the next few days after my mum left for the hospital (It was the hospital as I found out the next morning) things were a bit rocky. But they started to work out again, we weren't left completely in the dark. So, it was this feeling I had when my birthday came around and I was happy, because I was turning twelve. It was also on this day Rae and Stephanie informed me, very kindly, that Stephanie and I were to be shipped off to Dalby, a small town 3 hours away, where we were to live with our Dad and stepmother full time. All because mum was incapable to look after us. So, for the rest of the day I watched as my life started changing drastically.
I was told that I was supposed to start my high school life in a little place known as Quinalow. This school had approximately 100 students. Did I forget to mention that this school is from Prep to Grade 10? Yeah, well, it turns out that this school is tiny. So, I was to start a completely different life, make new friends and all that jazz, live with a family I had previously only seen on holidays. Obviously this made me sad, I was leaving everything I knew and loved. But I knew that I shouldn't be sad, because it wasn't like I'd never see my mother again. Right?


I think back over this time in my life, over 3 years later. A lot has happened, but I'll only bore you with the things that happened that related only to this story. I moved schools, houses, lives. I made friends, did not too badly at school, it wasn't going to bad. I got a couple of visits from my mum in the first two years. She also called every Saturday, so that was a bonus. Until then the visits stopped in ninth grade. Then she only called every fortnight. Then, one night, we were talking to her and she told her she had some news. As soon as she said it, I told myself that she was getting married.
"I'm getting married." See, told you. That was all well and good. She wanted to know if we could come up for the wedding in March. Then, she told us that she wasn't allowed to speak with us anymore and that if we ever wanted to contact her again, we could when we turned 18. And that was the end of it. We said our goodbyes, and that was it. Done.
So now, sitting here, looking at everything, I can't help but feel that it is all somehow my fault. I know that I'm in grade 11 now, and I should be over thinking such nonsense, but it's true. I mean, would things have been different, if I had thought more of my mother, thought about what she was going through, instead of stupidly wishing for her bedroom, of all things? How could I have possibly known at that point how hard my life was going to get, how much harder it still is, and how much worse it will be when I'm older still? All I know now is that I would give absolutely anything, to have her sitting on the edge of my bed again, stoking my hair and calling me Doodlebug.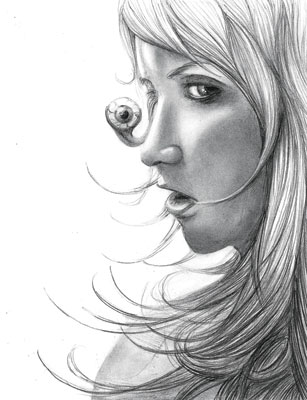 © Jessica P., Bethel Park, PA