Why Catherine?
May 14, 2012
"I have to get out of these clothes-fast." Catherine whispers, her fingers hurriedly unbuttoning the silk shirt and sliding it off of her pale body. Her dark eyes dart hurriedly, looking for me.

"Hand me that, would you darling?" she flashes me a smile and I hand her the dress and watch her slip it on without a word. I bite my lip as I watch her finish changing. My head is swimming and I can't quite breathe. What in the world is going on?

"Now remember. You must call your father and tell him I'm going on that business trip and-"

"Why?" I interrupt. Her eyes flash, confusion and denial fluttering across them.

"What?" she questions.

"Why, Catherine?" I grit my teeth around my mother's name. She flinches. I take a step forward, "You don't have to leave. You want to. So why should I clean up after your mistakes?"

"Because I'm your mother-"she starts.

I shake my head furiously, "No, you're not. Not anymore." I lash out, furiously. She had done this. She had ruined everything. She had revoked her right to be called Mom. And I wasn't standing for it. I refused to let my brother and I be pushed around any longer. We're better than this. We deserve better.

I pick up her clothes and fling them at her, then slam open the door. Michael stands on the other side, his eyes wide. I let my own eyes soften and reach out my hand to take his. Then we both step aside. I turn my gaze to my mother, "Go." I glare.

She opens her mouth to say more but my eyes harden on her and she picks up her bag, stuffs the high end clothes in and walks out the door. I bite my lip, now wondering if I had done the right thing. Her with all the affairs, her rich suitors, the sneaking around, the getting us involved… we deserved better. Dad deserved better. We all deserved better.

When she had walked in with those silk garments it had almost been enough to make me sick. Yes, we're poor. But that doesn't give her the right to sneak around with all those men just so she can have nice things. Michael and I, we get along just fine without all that junk. And Dad, as hard working as he is doesn't need it, so why should she?

She looks back over her shoulder at me, her eyes wide and hurt. She knows, next time, I won't let her back in, "Danielle." She pleads.

I flinch, revulsion running through me.

"You don't even know her name!" Hisses Michael, outraged.

"It's Isabelle." I correct, scathingly.

Her completion pales, she nods, and without another word, walks down the steps and out of our lives.

And you know what?
I've never this free.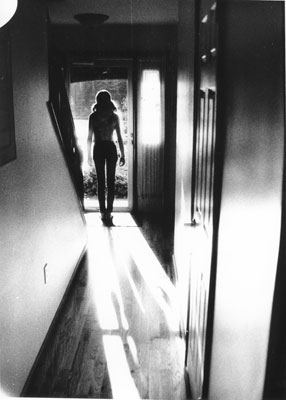 © Mike V., Morgantown, PA