Renewal
February 18, 2012
I licked my lips and glanced up at the scorching midday sun. Just a few more minutes.
Restless, I closed my eyes and tried to think about something other than my thirst as I waited for the water truck to come by. It's late, I thought, drawing patterns in the sand. It's always late.


A distant rumbling drew me from my thoughts. I squinted in the sunlight to see where it was coming from. The truck, when it appeared, looked like a shimmering black dot, growing bigger as it approached.


I started running; as fast as my legs could carry me. By then, the other villagers had also heard the approaching water truck. They emerged from their dome-shaped huts like lions lured by the smell of blood. I urged myself to go faster, ignoring the jagged stones that cut and tore at the soles of my feet. Those would heal, but without water, we will all die.


As I approached the truck, I raised my arms and waved , yelling at them with the one word I know of in the white people's tongue. "Wa-ter! Wa-ter!"


They saw me coming and held out a bottle of water from the side of the truck. I ran headwards into the bottle, the blow knocking the wind out of my lungs. As I fell, my arms instinctively wrapped themselves around the bottle, hugging it close to my body so that it will not break and spill the precious amount of water that we have.


I drank a mouthful of water from the bottle and dabbed a little on my lips to wet them. That should suffice for the day. I lugged the heavy bottle home and proceeded to pour a little into a small earthern bowl, careful not to spill even a drop. "Mama," I said, placing the bowl at her lips. "Water."


She sipped the water slowly, trying to wet the inside of her mouth as much as possible. "God bless you, Neema," she said in a faint, raspy voice, a soft sigh escaping from her lips. Not long after, she closed her eyes, and returned to her slumber.


I knelt down beside her and watched her sleep. Her face looked drawn; emaciated, even. Her cheeks were sunken and her lips, parched. Sickness did not do her well, but she was holding on strong, because she had faith in God.


I remember her telling me about God. Mama said that we are all being tested by God, but there will come a day when we will be redeemed in His eyes, and that will be our rebirth – water will fall from the sky, and our land will be green and rich, and we can drink until our bellies are all full and bursting; we will be truly be alive again – reborn. But, til then, our lives are in the hands of the white people; and til then, I shall wait.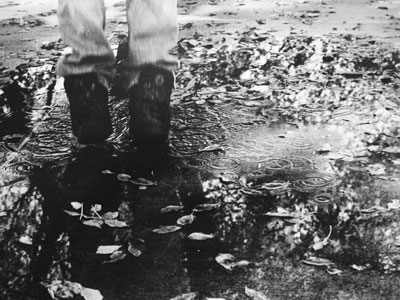 © Laura M., Eagan, MN