You Only Know My Character
February 6, 2012
You know me as the preppy social butterfly, the head cheerleader, the homecoming queen. I have perfect skin, brand name clothes, and I've never walked into a Wal-Mart. But keep at a distance, because if you look too closely, you'll notice I have a chicken pox scar above my right eye. The makeup hides the zits, and my hundred-dollar jeans distract the attention away from my uneven teeth. Everyone likes me, but no one knows me. I have friends, but they stay on the outside.

The inside, the core of my life, is where all the proof that I am human stays. The four walls that construct my bedroom are the only thing that has seen me on a bad hair day. They're the only ones who have heard the gasping sobs that come from deep inside me when I hear my parents fighting. They've heard me gossip late at night with my friends about all the people who can't hide their imperfections. Just down the hall is my bathroom, where I create the image of myself that I've portrayed for so long.

I couldn't let someone in even if I wanted to. It's too difficult to open up after building up walls around me. I can't tear them down. Hopefully someday I'll meet someone who wants to know ME, not the me I show everyone. The real me. Maybe they'll sit with me while I watch the History Channel, something I actually like to do. I can't stand the ditzy reality shows my character watches 24/7. And maybe that person I open up to will love me because of my imperfections. I hope so.

But please, if ever I let one blemish show, please overlook it. I try so hard to hide it.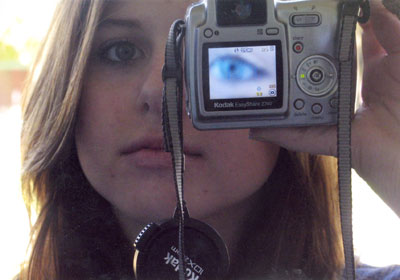 © Jessica M., Phoenix, AZ